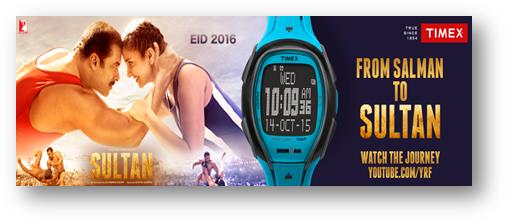 Timex has chosen one of the most anticipated movies of the year- Sultan starring Salman Khan and Anushka Sharma to do a very cool brand tie-up. Through the association, TIMEX aims to reach out to the audience encouraging them to live an active and fit life with its most successful fitness trackers – The IRONMAN series. TIMEX as a brand has always focused on improving lifestyle through its technologically advanced products and Timex Ironman Sleek 150 series is one of them.
As part of this campaign, the company launched a video that showcases Salman Khan's journey from Salman to Sultan. The movie's director Ali Abbas Zafar talks about Salman's intense training with Timex Ironman Sleek 150 for the movie and how features like stopwatch with 150 Lap Memory, Interval Timer, Target Pacer & Hydration Alerts helped in the training.
Check out the exciting video

Anupam Mathur, Head – Sales and Marketing, Timex Group India Limited said, "We are very excited to be associated with YRF. We saw a beautiful fit with this association given the connect that exists between TIMEX's focus on fitness and Sultan's essence. The movie is a perfect fitment for us as it encourages people to have a healthy lifestyle through the main character, Sultan, portrayed by Salman Khan. With the IRONMAN® series we aim to offer our consumers a confluence of future technology and style.
Manan Mehta, Vice President Marketing & Merchandising, Yash Raj Films said "Since YRF is very particular about merchandising and licensing brand associations, we employ our proprietary evaluation tool – 'The Co–Aud' (pronounced 'The Cord') for any partnership. We believe the brand's message which is communicated via our films should be congruent with the marketing message of our content. Its only when we approach the brand's consumers and the movie's audience as the same, thus Co–Audience, can we deliver a seamless experience. With Timex, YRF has found a partner who understands this."
About SULTAN:
"Wrestling is not a sport it's about fighting what lies within." – Sultan
Sultan is a sports drama which is all about getting up and fighting life inside and outside the ring. It's a journey of a wrestler and his love story.
Produced by Aditya Chopra and written-directed by Ali Abbas Zafar, SULTAN releases this Eid 2016