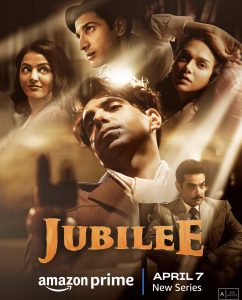 Jubilee (Prime Video, 5 Episodes)
Lights, sound, camera… action! And here we go. At last, a series that encapsulates the genesis of Hindi cinema…the good, bad, and the ogling.
The fun part of Vikramaditya Motwane's see-real is to spot who's who and … my God, is this true??!!! Motwane's writer Atul Sabharwal uses historical facts to create a kind of free-flowing fusion of fact and fantasy that is at once arresting and liberating.
From the silent era in the 1940s to the not-so-silent era when the Partition of 1947 tore the nation into two, Jubilee begins its comprehensive exhilarating journey by introducing us to the brooding maverick producer Srikant Roy, most meticulously modeled on the legendary Himanshu Rai. As played by Prosenjit Chatterjee, Roy is wily and mysterious, ambitious and nasty…It's a brutal role played with tremendous understanding.
In comparison Aditya Roy Hydari as Roy's wife Sumitra Devi (modeled on the enchanting Devika Rani) comes across as flat and dull. More mistake than mystique. I don't think Devika would have liked how she is portrayed.
But the show – which must go on- belongs two young male actors Aparshakti Khurrana who plays a half-there-half-dare Ashok Kumar , and Sidhant Gupta who plays nobody in particular. In author-backed roles, they steer the series through propulsive drama that precludes history, mystery and chemistry. Khurrana plays Binod Das, a dark sinister yes-man (hence Das) to Srikant Roy. Binod strikes out as an unlikely matinee idol Madan Kumar, leaving behind a trail of blood and jealousy. Khurrana's eyes convey a disturbing blend of evil and ambition.
There is a popular dialogue that Binod Das recites to his studio boss before becoming Madan Kumar. The desperation of a social climber is pitch-perfectly expression by Khurrana.
Siddhant Gupta as Jay Khanna has the meatiest role. He is a jaunty Casanova whose dreams of being part of the movies are almost throttled by historical vicissitudes. Jay takes it all on his square chin with the debonairness of Dev Anand.
The female cast is relatively weak except for the spunky Wamiqa Gabi who comes across effectively as a tawaif except when she is made to perform a Bhansali-styled Mujra in her brothel which miraculously turns into a spatial kotha with dozens of chorus dancers.
The partition prettified for karmic relief. But the mood is overall consistent and commanding
Echoes of the past reverberate in this researched but easygoing flight into filmic fancy. Jubilee is remarkably well shot by cinematographer Pratik Shah who hardly ever allows the storytelling to be overwhelmed by signposts and emblems of historicity. I wish the music was less illustrative more spontaneous. Amit Trivedi's songs come through more trite than right. Alokananda Dasgupta's background score is a little too playful… or perhaps that's the mood director Motwane wants?
Not to be taken too seriously, and yet seriously enough to know this is not a flight into fancy, Jubilee packs in quite a punch , resisting the temptation to get paunchy it remains well trimmed and sinewy in its storytelling.
The research is rigorous and yet never ponderous. In episode 5, we are told how a ban on new film songs on All India Radio gave birth to Radio Sri Lanka as an alternate outlet for film songs.
These are details that the young viewers would not know. The series ensures they would remain invested through the ten episodes.
Jubilee is remarkable achievement for how much the characters convey the nervous excitement of those times when Hindi cinema was trying to find its feet in the bloody cesspool of the Partition.
We've just been through five episodes. We are told it is 'interval' now. We can't wait to get back to these lives which seem to echo the past while skirting the present.