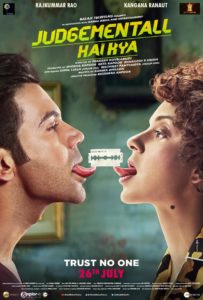 Kangana Ranaut versus Rajkummar Rao in an epic murder plot produced under Balaji Motion pictures is the tag line to recently released film Judgementall Hai Kya. Two power actors, both of whom are able to hit new heights with every character they play, go the next level in this film written by Kanika Dhillon and directed by Prakash Kovelamudi. The music for this film presents a unique challenge: there is obsession, but there is no love and most certainly no love lost between the "hero" and "heroine". So, a team led by Taniskh Bagchi and featuring Divine (from Gully Boy) come together to create 5 songs, to support this strange tale.
The album opens with Navv Inder and Lisa Mishra on The Wakhra Song. For those into Punjabi pop, this is a remake of the song the singers did with Baadshah but with a full-time club beat. Also, as a change-up, audiences are treated to some girl power with Raja Kumari replacing Baadshah for an all-girl power play rap break. This is item song all the way, possibly an ending song with both Rajkumar and Kangana taking on the dance roles in the video.
Since the album has started with a remake it's not much of a stretch to go to the next song Para Para by Arun Dev Yadav. This bright opening, mostly nonsense lyric piece is most likely a background to some bit of fast-paced action. In effect, it's a mashup of old Shammi Kapoor and RD Burman tunes and this feeling is only drilled in harder by its repetitive nature. There are some useful lyrics but they are so interspersed within the rest of the tuning, its hard to work out what they are for or about.
For the next change there is Judgementall Hai Kya, the title song of this album. Jaspreet Jasz, Rachita Arora and Nivedita Padmanabhan take to the mic to give a Bond song but with an Indian touch (which always means villain song). There is the sound of a little girl singing in the opening but the voice itself sounds a bit more mature, so it could be representing an inner voice moment. As the song develops it stays quiet but dark until it breaks loose half way through. This too however is quickly contained thus continuing on its dark way.
So having had the club beat, RD Burman's beats and Bond beats, the album takes a 90 degree turn for Kis Raste Hai Jana. Surabhi Dashputra and Arjunaa Harjai are backed up by an acoustic guitar as if on a soft journey song, something like the style Shankar, Ehsaan and Loy have made so famous over the years. There is no real sense as to whether its happy or sad, so its use within the film is going to be crucial to understanding it. The Punjabi lyrics aren't much help unless the listener is fluent, so for most people this song is a bit confusing and really throws a curveball compared to what came before.
Kar Samna by Aamir Khan, Brijesh Shandilya and Protijyoti Ghosh is the enviable ending power song of this album. Short and sharp this is a straight rock song but with almost religious lyrics. The feeling is that this one is directed towards getting Kangana to drive her towards or through the final fight with Rajkumar as she works towards bringing the film to a perfect conclusion.
Short albums have to work hard to stand out as they don't have a lot of time to ram home the message, nor enough time to win hearts and minds over. Thus, unless each song is in itself truly fantastic, or fully backs up an exact part of the story so that cinemagoers can attach it permanently to some part of the story they have just watched, they can't really do well. The first two songs are effectively remakes, so outside of reminding listeners of the original they aren't doing much, the third as the title song is always going to take a back seat behind the credits and the fourth seems to be off on a tangent. This leaves the last song to be powerful which it is but is so short that it quickly runs out of steam, just as it got started.