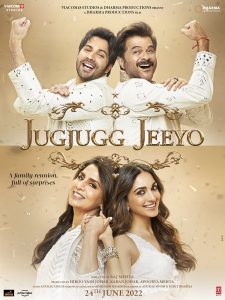 Jugjugg Jeeyo
Starring AnilKapoor, Neetu Kapoor, Varun Dhawan, Kiara Advani.Prajakta Kohli, Maniesh Kohli
Directed by Raj Mehta
Wed and wild. It's the Saini side up. The Saini family's daughter Ginny(Prajakta Kohli) is getting married. But her father and brother are busy trying to sort out their own bedroom tragedies.Papa Bheem Saini (Anil Kapoor)and beta Kukoo(Varun Dhawan) want to divorce their respective wives.
Which seems a pity considering how sorted and lovely the wives, played by Neetu Kapoor and Kiara Advani seem to be. But this is not their story. This is story of a father, the son and their unholy dost, played by scenestealer Manish Paul. Every time Paul is on the prowl he takes over the screen.
There is an instantly amusing slightly risque sequence where Varun Dhawan and Kiara Advani are about to make love after months of silent warring. Manish Paul jumps into their bedroom through the window , eyes Varun's shorts lasciviously and makes a comment on his brother-in-law's alert midriff.
It is a sequence that could easily have fallen into the dirt trap. Director Raj Mehta and his team of writers(Rishabh Sharma, Anurag Singh,Sumit Batheja,Neeraj Udhawani) keep the proceedings perky peppy and squeaky-clean. While Anil Kapoor's patriarchal character comes across as boorish and loud, Varun Dhawan plays it lowkey. He uses his boyish personality to portray Kukoo as a child-man who has never learnt to take his responsibilities as son and husband seriously . Dhawan has the most heavy-lifting to do in the cast and he does it well.
The narrative starts off on a super-light note and then constructs its way into a more serious tone without getting worked-up its lingerie into a budge. Director Raj Mehta previous film Good Newzz too made light of a serious issue (IVF pregnancy) without trivializing the issue. In Jugjugg Jeeyo the narrative makes some smart moves on marital issues without getting too deep into the complexities of the matter.
The comedy of arrears emerges as a fun-fuelled cheer-jerker.The atmosphere is festive , though not excessively so. Happily, there aren't too many song breaks in the festive mood with extra dollops of masti. The frames look posh, as they always do in a Karan Johar production. Cinematographer Jay I Patel shoots the family as if it never sleeps. Yet the frames are warm and inviting.
One of the marriages survives the onslaught of spousal selfishness and temper tantrums, the other marriage we are not too sure about… a sequel perhaps?