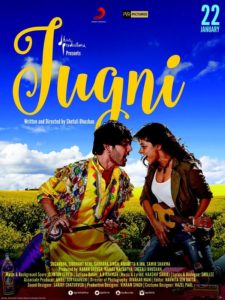 When Vibhavari (Sugandha Garg), an up-and-coming Bollywood music director, finds herself facing a creative block, she sets off for Punjab to meet and record folk singer Bibi Swaroop (Sadhana Singh).  She first meets Bibi's son, Mastana (Siddhant Behl), a charming and personable local singer himself, who insists that Vibs must listen to him sing and record him.  In Mastana and his mother Bibi, Vibs finds the inspiration that has been escaping her.  It's not surprising that Vibs and Mastana grow close – close enough to spend the night together, admittedly encouraged by not only their music, but also by a bottle of Gulabo (the country liquor that also featured inVishal Bhardwaj's  Matru ki Bijlee ka Mandola).  Mastana is mortified; Vibs sees it as something pure and natural, but, in the end, no big deal.
This, frankly, is one of several refreshing things about Shefali Bhushan's film Jugni (literally a female firefly, but the word also refers to a kind of life essence, making it an incredibly apt title for a film that deals with music as a great life force for those creating as well as those listening) – there is no grand romance between our two leads, and, in fact, they both have partners (Preeto and Sid) with whom they share equally messy relationships.
The film is not without its flaws, however.  The story indulges in clichés (especially around the film world); performances are inconsistent.  There are moments where I feel like more direction was required, where actors should have been pulled back.  In a film where music takes the centre stage, it's unfortunate that the actors are woefully inadequate at playback singing, making those moments seem awkward and forced.  There are, however, some cracking dialogues, and many of those are delivered deftly.  It's too bad that both the story and its performances are uneven and sometimes downright clunky, because where Jugni is good, it's very good and very entertaining, and when the performances work, they're spot on.
Shefali Bhushan spent a number of years gathering folk sounds and folk music (she was the force behind the wonderful site Beat of India), so it's no surprise that Jugni's music director Clinton Cerejo's music (with a little help from AR Rahman's sufiana qalam) is the heart and soul of the film.  And probably my favourite sequence is the one in the opening credits, where we see Vibs wandering throughout Punjab, learning to play traditional instruments, and talking with the region's singers – a region where, she is told, everyone is a singer.  Moments like those are when Jugni truly shines.