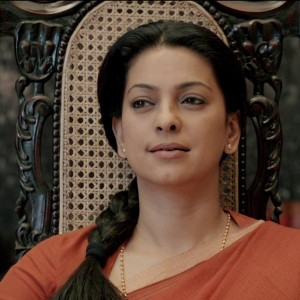 Although we will still have to wait a couple of months, the promotion for Gulaab Gang has already started. The action-packed trailer was released few days ago and fans are excited as they can finally see Juhi Chawla and Madhuri Dixit onscreen together for the first time. Both actors were contemporaries in the 1990s but they never got to work together.
About her performance of a villain for the first time, Juhi was initially worried about the audience reaction and how her work would be received in a recent interview she said, "When I read the script, it was great, but by the end of it, I said 'Why will I do this role? People will not believe me if I do this role'. But finally, when I took it on, I thought it will be fun to do something different," she said during a promotional event for the film.
In fact, she is clear about the reasons that led her to accept. "I said yes to the film because of two reasons – Madhuri was in it and secondly the script. She is a wonderful actress and good looking", she said.
"This was the last chance I got to work with her. I don't think we will get a chance to work together in future again", she added. The chance to work with Madhuri in a film like Gulaab Gang was crucial in her decision, as such kind of projects are rarely developed. "It happens once in a lifetime when we get a script where we can work together with such dedication. I don't imagine that we will again work (together). That's why the film is exciting for us as actors," Juhi said.
In fact, Juhi was offered was offered to work with Madhuri at the peak of their careers during the 1990s, but she refused. "There were times when I had the chance to work with Madhuri, but we were rivals back then and I was like, 'I will not work with Madhuri'… There will be comparisons. But when this offer came I couldn't say a no to it," the 46-year-old actress added.
Co-written by debutant director Soumik Sen and producer Anubhav Sinha, the film is inspired by a group of women activists in the Bundelkhand region that fight against injustice within their society.
Although it is not an official biopic according to producer Anubhav Sinha, Gulaab Gang is clearly inspired by real-life Sampat Pal and her group of activists. Juhi has stated her opinion about this issue and the importance of education. "The film is set in rural background. The idea of this film is to empower women and get themselves educated so that they can fight violence and abuse".
Gulaab Gang is set to release on March 7.