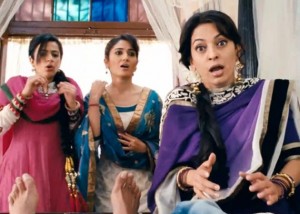 One of the many reasons to look forward to the Diwali masala blockbuster Son Of Sardar is for the return of Juhi Chawla in a fun, light-hearted role.
"After quite some time I am back with a good role in a big budget Bollywood film," Juhi told a leading daily newspaper.
Actor and co-producer Ajay Devgn approached her to play the character of Sanjay Dutt's love interest, confident that it was a role she would be good at.
"I play a cute, funny character. Sanjay's character and my character were supposed to get married 25 years ago but it did not happen. There is a reason for all this. There is lot of fun in the film, it has a happy ending," she said.
It's clear that she is very excited about this movie as it is a break from some of the more serious roles she has done in recent critically acclaimed movies such as I Am  and My Brother Nikhil.
"As an actor I am happy doing good roles. It all depends what kind of script and role I am offered, I am open to anything be it serious or off beat or a Bollywood masala entertainer. All I look for is that the story and my character should be engaging."
"This character in SOS somewhere takes me back to time, when I did light hearted movies. I am happy and excited about this movie. I hope the audience likes it," she said.
SOS is a Hindi re-make of the Telugu film Maryada Ramanna and is slated for a Diwali release alongside Shahrukh Khan's Yash Chopra film. But Juhi was not fazed by any rumors of a box office clash between the two films.
"Diwali is the time when big films release every year. It is an auspicious occasion and holidays are also there so producers look at releasing films during Diwali. I am not aware that Shahrukh's film is releasing around the same time. It is not in my hands, it is for the producers to decide when to release the film," she added.
Not only are the two of them good friends, but they have also delivered some of the biggest hits of the 90s, including Darr and Yes Boss. Were there anymore films on the cards for them together?
"I would love to do a film with him. But as of now there is nothing that we are being offered," Juhi said.