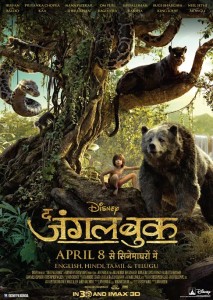 Disney's The Jungle Book holds its throne at the top in its second weekend after already swinging in £21 million at the UK box office and taking a hugely impressive 10 times more than any other film on Saturday. The Jungle Book has already surpassed the lifetime takings ofMaleficent, Oz The Great and Powerful, Mission Impossible: Rogue Nation, Night at the Museum and Snow White and the Huntsman.
In India the film is now the biggest Hollywood film of all time having earned over Rs.190 crore since its release.
The film also remains number one at the US box office taking a total of $191 million to date and globally it is already the 4th biggest movie of the year with $528m.
The critically acclaimed film is being called out by critics as a cinematic experience not to be missed and is already in the Top 25 of films of all time released in IMAX. The weekend result also sees Disney continuing to hold two top five spots at the UK box office with Disney'sZootropolis still delighting audiences. Globally Zootropolis has now made $907 million making it the third biggest Walt Disney Studios Animation of all time – behind only The Lion King and Frozen.
Directed by Jon Favreau (Iron Man), based on Rudyard Kipling's timeless stories and inspired by Disney's classic animated film, The Jungle Book is an all-new live-action epic adventure about Mowgli (newcomer Neel Sethi), a man-cub who's been raised by a family of wolves. The all-star voice cast includes Oscar®-winners Ben Kingsley (Learning to Drive, The Walk), Lupita Nyong'o (12 Years a Slave, Star Wars: The Force Awakens) and Christopher Walken (The Deer Hunter), as well as Bill Murray (Lost in Translation), Idris Elba(Star Trek Beyond), Scarlett Johansson (Avengers: Age of Ultron) and Giancarlo Esposito (Breaking Bad).