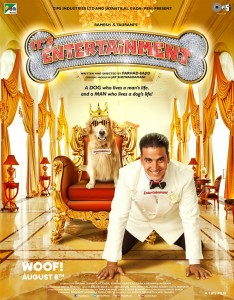 Come 8th August, and the cine goers will be sitting on a roller coaster ride in Farhad-Sajid's Entertainment starring Akshay Kumar and Tammannah.
The film marks the directorial debut of writers Farhad-Sajid who have given us several blockbusters in the past like Housefull-2,  Golmaal-3, Singham and many more!
Interestingly their debut film 'Entertainment' which revolves around a dog who inherits all the wealth will have his name first in the credits. Yes! Akshay Kumar's name will be come after the dog Junior as he is the main hero of the film!
When quizzed Director Farhad-Sajid on this sudden twist in the tale Sajid said, "It was Akshay's idea completely, as Junior is the hero of the film and we thought amicably, it is justified too. Junior's name will appear first in the opening credits. Hats off to Akshay to have thought of this as this would be the first film in the recent years which would have Akshay's name second!"
Well! lets wait and watch as the film is all set to hit the screens on 8th August, 2014!!!