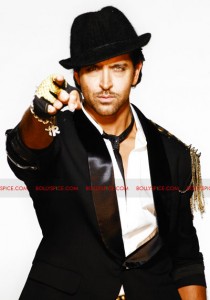 He is known as the God of Dance, and now he is going to be mentoring and judging dancers on the new show Just Dance! We are talking, of course, about Hrithik Roshan. Hrithik, along with two of the greatest choreographers Vaibhavi Merchant and Farah Khan, make up the judges panel for the reality dance competition. We have seen the teasers and now finally we can watch the show because it goes on air on Star Plus this Saturday, 18th June with a first look web cast on the 17th at 4pm. The winner of the show not only gets a grand prize of Rs 1 crore and a car, but also the opportunity to dance with the master himself in a video.
One of the cool things is that Just Dance will feature aspiring and established dance talent from across the globe. Auditions were held in India, the UK and the US. Hrithik says, "Just Dance is a mission across the globe to find the best dancers."
So what was it about Just Dance that made him want to take part in the show? "When I first heard the concept of the show, I was amazed. It was just like reading a script. You start to identify yourself with your script, concept. Its concept made me believe that I should be part of it, " he explained.
Despite his talent Hrithik says he actually has to work very hard, "I find every dance difficult.  Whenever I start rehearsals, I start from zero and I feel that I can't do this. Then I slowly learn. I'm a very hardworking dancer."
He adds,  "I'm no god of dance, but I'm very happy with the fact that I have become a symbol for dance and that through me, so many other talented gods of dance will get an opportunity."
So what will he be looking for as a judge? "My focus will be on energy, expression and the impulse of the performers more than just choreography because dance is all about expressing emotions. If your dance can pass on your feelings to those who're watching you, I think you've succeeded as a dancer."
Hrithik will not only be on the panel he will also act as mentor for the contestants on the show giving them encouragement and advice. One piece of advice he offered was, "All I can say is when you're dancing just let go. Don't be afraid to look stupid."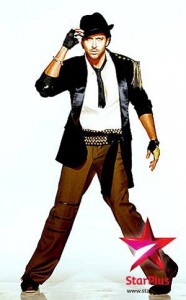 Of course the show has been in production and Hrithik also talked about being on having to judge the talented contenstants, "When I signed the show I thought I will easily be able to pick my favourites but one after the other, each dancer was exceptional. Picking from 30 thousand to 51 to 21, I have never been through so much emotional upheaval in life. Dancers have a certain aura, a certain peace on their face when you watch them dance and that comes across in the show. STAR Plus has achieved a dream. People have gone beyond their limits for this show. I feel blessed that so many people will get such a fantastic platform through me. It is a dream come true for me."
He says he would be ecstatic if his sons want to follow in his dance steps and would love to teach them, "I think they're really young right now for me to teach them any of my moves. But as they grow up, if they really have the proclivity for dance, their daddy will be the happiest to teach them."
Who does Roshan think are the best dancers ever? "I idolize Michael Jackson and the God of formless dance Shammi Kapoor."
Getting back to Just Dance, what are his expectations for the show? "For me dance is an expression. Dance is something, which pushes you to go beyond edges. This show promises that and I am looking forward to it."
In closing he said, "Just Dance is a global platform for dancers who are passionate about dancing. The show takes dance to another level. I am proud to be associated with the show." 
To catch the star in action, tune in to Star Plus this Saturday, 18th June and get a sneak peak today on http://starplus.startv.in/justdance/webpremier.aspx at 4pm!