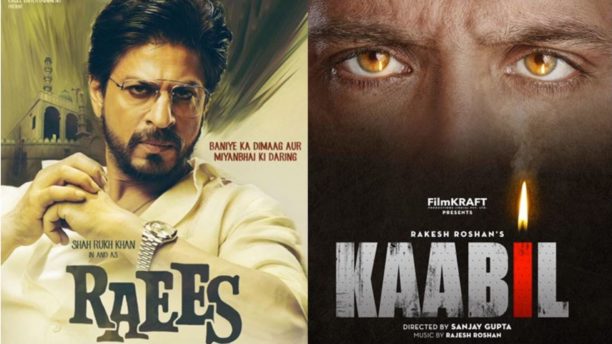 26th January 2017 – Just a little over two months remain for the arrival of the BIG day. In fact that's the date when Bollywood would evidence its next holiday release. All major releases from this point on [Dear Zindagi, Kahaani 2 and Befikre] are non-holiday arrivals while Dangal releases on 23rd December, which is a regular Friday. However, 26th January is huge because Hrithik Roshan's Kaabil has been slated to release on this date.
"Each of Hrithik's last four releases has been on holidays. Mohenjo Daro [Independence Day], Bang Bang [Gandhi Jayanti], Krrish 3 [Diwali] and Agneepath [Republic Day] have all seen him bag some really important dates from the Bollywood calendar. When dad Rakesh Roshan chose 26th January for Kaabil, it was quite apparent that this would make it five in a row for Hrithik. However, what has turned out to be tad disappointing is to see the makers of Raees not just announcing their plans for the same date but also not willing to budge from their stand," comments our source.
Considering the fact that Rakesh Roshan and Shah Rukh Khan have worked together in latter's early stage of his career [King Uncle, Karan Arjun, Koyla], this was a rude shock for all involved.
"At his end, Rakesh Roshan has repeatedly mentioned that 26th January is an important date for Kaabil and how more importantly, he was the one to book it first. At the time of the date being announced, no one had any inkling that Raees would be delayed so much and then continue to get pushed to such an extent that ultimately it would be eyeing the Republic Day," the source adds, "Had Shahrukh Khan, Farhan Akhtar or Ritesh Sidhwani expressed their plans for Raees beforehand itself, Roshans could have thought of another date for Kaabil. But how can they do that now when all announcements are made?"
On the other hand those involved with Raees are sticking to their stance too.
"It is an unwritten rule in Bollywood that if two big stars decide to arrive on the same date, the one who has announced the arrival first gets preference. That said, since Shahrukh Khan is involved here, the name itself carries so much weight. It is unfortunate though if the clash happens because not just would it result in division of screens, considering the fact Hrithik Roshan is a huge star in his own right, overall numbers would be effected as well. If only this clash could be averted, audience would get a chance to watch two big films on two Fridays. In case of a clash though, it would be a loss for all involved," a trade insider rues.
Will the clash be averted? Well, we would know soon because the promo of Raees is not yet out and once it does, there would be a date attached to that as well. Meanwhile, the promo of Kaabil is pretty much carrying 26th January as its arrival date.
Watch this space for more updates!