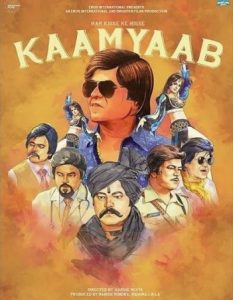 Kaamyaab
Starring Sanjay Mishra, Deepak Dobriyal,Sareeka Singh
Written & Directed by Hardik Mehta
Kaamyaab is a very rare and precious film. It takes us into the lives of those unsung senior artistes who are not 'junior artistes'—that derogatory term given to the blur of people who stands in crowds – but aren't stars neither.
We could call them the Nowhere People, na idhar ke na udhar ke…Think about Om Prakash, Kanhaiyalal, Manmohan Krishna, Nasir Hussain, Iftiker,…They are all gone remembered for the way they blended into the fabric of the films that they kept appearing in with stubborn persistence. Kaamyaab has quaint cameo space for all the fringe players. In fact the film is dedicated to one of them Viju Khote who passed away in October 2019.
But the film belongs to Sanjay Mishra who plays Sudheer a bit player like the potato in a vegetable dish which you only notice when it goes missing. Before it's too late for him, Sudheer, ridiculous in his ill-fitting wig and insistence on lacing his conversation with angrezi, must do one more film to complete a record-breaking 500 films in his career.
The 499th one had gone badly. And Sudheer hasn't faced the camera for years. Now he must face the writing on the crumbling wall.
Writer-director Hardik Mehta seems to know this world of infinite heart breaks intimately. In the disappointment that we see in Sudheer's eyes is reflected the truth of the song that the great Gulzar wrote for another film set in the Hindi film industry Sitara: Yeh saaye hain yeh duniya hai parchaiyon ki bhari bheed mein khali tanhaiyon ki.
There are no such evocative lines to support our protagonist's crumbling world of heartbreak and disenchantment. And the theme song in Kaamyaab 'Paon bhari' hardly impressed me. The crippling scarcity of creative support doesn't debilitate the power of Hardik's story. There are plot points where the film simply sweeps us into a world of complex power-play where the underdog always loses.
The entire episode on the sets of a costume drama where Sudheer is so subtly humiliated, is a marvel of writing bringing out the simmering undercurrents of hierarchy that controls a film set. Equally effective is the depiction of Sudheer's messed up family life. His troubled relationship with his daughter is articulately set forth in sequences that represent the bickering and anguish of a parent-child relationship that has never found a meeting ground.
Sarika Singh is very effective as the disgruntled daughter. The other outstanding performance comes from the ever-dependable Deepak Dobriyal who is fabulous as a wily casting director whose logo on the wall is. 'No couch, only casting.'
Okay then.
But the real stars of Kaamyaab are all the living characters actors making cameo appearances: Avtar Gill (who has an amusing role as Sudheer's biggest bête noir), Birbal, Ramesh Goyal, Viju Khote, Manmauji, even Guddi Maruti …they are all here reminding us with heartbreaking smiles that they still exist.
We see you. We hear you. Thank you, Hardik Mehta, for giving those "side" actors a voice.