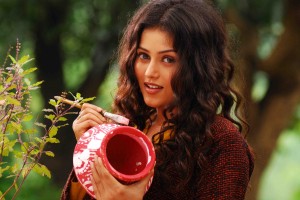 The Showman of Indian cinema, Subhash Ghai, delivers his latest, epic film venture as the eagerly awaited Kaanchi releases worldwide on 25th April 2014, presented by Mukta Arts Ltd and distributed internationally by B4U.
Bearing all the signature hallmarks of another evergreen classic in the making from one of the industry's most grandiose filmmakers, Subhash Ghai conveys a spirited tale in his inimitable style, drawing from the power of drama, music and intense characters, showcased on a large-scale cinematic canvas.
Kaanchi is an epic adventure, rich in emotion and filmatic glory, set against a backdrop of breathtaking locales. Newcomers Mishti and Kartik Tiwari are set to steal the hearts of audiences and critics alike as they make their grand entry into Bollywood, sharing screen space with seasoned veterans, Rishi Kapoor and Mithun Chakraborty. Already championing the airwaves, the flawless compositions of music directors, Ismail Darbar and Salim-Sulaiman are set to linger in the hearts of audiences for years to come.
Kaanchi is the story of the inner power and conviction of a woman who represents millions of young people and takes on the fight against injustice in her country. Read on to know what Mishti had to say about the movie, her role and more…
Indian cinema has seen a phenomenal resurgence of female-centric films in recent times. Does Kaanchi belong to that genre?
I would say Kaanchi is a youth film. It's a coincidence that the lead character is female. The film is more about the character; the gender doesn't really matter in this instant.
What drew you to Kaanchi as your Bollywood debut venture?
Working with the director, Subhash Ghai, I feel supremely blessed to have such luck. I just wanted to jump straight into the project. I didn't think twice.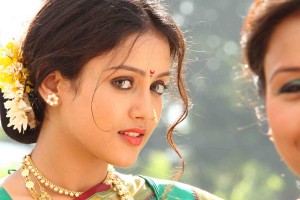 How did being cast by the Showman of Indian cinema in his next project come about?
I had finished college and had no plans for Bollywood or the film industry. I had done a Bengali film and the assistant director of that film was the chief assistant of Subhash Ghai. Subhash Ji had auditioned about 300 or 400 girls by this point but couldn't find his Kaanchi. On request, I showed him some of my clips. I had no idea that auditions for the film were taking place. The rest is a fairy tale for me.
Did you feel a sense of pressure, working with one of the industry's most acclaimed directors?
I wasn't actually nervous. From the very beginning, Subhash Ji and his family and the entire crew accepted me as a family member. It was like one big extended family. And Subhash Ji has an amazing way with his actors. He makes everyone feel comfortable. He can even make a non-actor act to the level of excellence.
And how was working with Kartik?
The first time we met was at my screen test. He was there to see if we had onscreen chemistry. On the first day, we gelled. We're super good friends off-screen, which helped onscreen. The scenes came out well because of the friendship between us.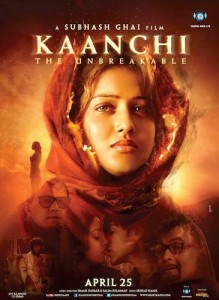 And working with veterans Rishi Kapoor and Mithun Chakraborty?
Having the opportunity to work with such great, accomplished actors was a huge blessing also. It went really well. When you share screen space with such huge actors, they advise and explain things and the scenes with them were beautiful. The ease with which they perform was amazing to watch also.
Who will the film appeal to and what can audiences expect?
Kaanchi will appeal to every class. It's both a class film and a mass film. It's a mass film with a bit of class and a class film with a bit of mass. It has all the masala, romance, thrills, action, a social message, politics, inspirational plots… It caters to all sections of society.
How did you get into character, and how close are Kaanchi's character traits to yours?
Kaanchi is a character that every group of Indians can relate to – male or female. She falls in love, she fights with her mother, she loves her family and her birthplace. Her character is someone that every Indian can relate to.
What sets you apart from your contemporaries in Indian cinema as an artist?
Light is in the eyes of the beholder. I guess it's up to the director, the audiences, up to people to decide whether they like me or not, and for what reasons. It's really hard for me to judge myself.