Once upon a time there lived a showman. He delivered films on larger than life canvases with heroic characters, melodramatic situations, grandiose dialogues and soul stirring music. We fondly recall the man who gave us iconic films like Karz, Ram-Lakhan, Saudagar, Pardes and many more! Sadly the showman never quite understood the evolution that happened to In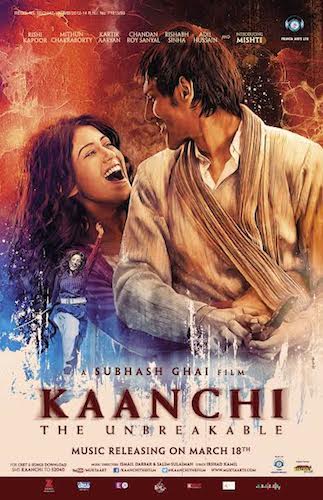 dian cinema. He struggled to appeal to the changing tastes, the new generation's demands and new age storytelling that Indian cinema had adopted. Today he continues to force the audiences to re-visit the style of cinema that once landed him with blockbusters however time and time again he gets rejected. Last Friday he tried again. And sadly last Friday, he failed again.
Subhash Ghai's Kaanchi is a cry for help. It's a cry for help from a filmmaker who has lost his way. It's a cry for help from the actors who for some reason were coaxed into doing the below par film. And no doubt it may just end up being a film that makes its producers cry for help in the weeks to come.
Ghai tries his best to pen the story of a brave young girl (no prizes for guessing her name) who sets out into the big bad world of politics to avenge the death of her fiancé Binda (Kartik Tiwari), and save her small village from the clutches of the same. She passes many hurdles in her journey. First there's the conservative society that demands her to act like a 'girl'. Then there are those who tell her that one person alone cannot bring about change, let alone a girl! And if all that wasn't enough there are sleazy politicians and a psycho politician's bratty son who's obsessing over the said brave young girl.
The story is nothing that we haven't seen before (corrupt politics, exploitation of villages, innocent young love, etc.) with the only unique element being that it is led by a female lead instead of a male lead. Of course this could have worked in the film's favour had the female lead been in the least bit bearable. Ghai's latest find, Mishti Mukherjee (originally Indrani Chakraborty) is anything but. She, or perhaps her dubbing artist, screech aloud every line at a pitch that forces you to cover your ears. And that's just when she's speaking normally so what to speak of the scenes when she's actually told to screech and scream! Thankfully for the first 20-30 minutes of the film you have Kartik Tiwari who for some inane reason believed rather strongly in the film and delivers his parts very convincingly. Sadly when his character is pushed off that cliff you feel you must jump along with him because the single stand-able element of the film was just eliminated. But then hope is ignited again when Chandan Roy Sanyal enters, as he too seemed to have been under the illusion that he was contributing his talents to a very notable script and delivers quite an entertaining performance. Though apart from Mr Sanyal everything else remains downhill for Ghai's Kaanchi. Veterans Rishi Kapoor and Mithun Chakraborty don't live up to your expectations, but then again can you blame them given the material at hand! TV Actor Rishabh Sinha also puts in a decent performance. However the efforts of all these actors go to waste because the overarching presence in the film is that of young Ms Mishti who unfortunately is nothing but pure annoyance. There truly is no way to put that lightly and be honest at the same time.
Ismail Darbar and Salim-Suleiman's music, which tried its best to bring back the Taal-wala-feeling, falls flat on its face. And on the rare occasions that the compositions are not half bad, the lyrics by Dr Irshad Kamil are. Rather unexpected from the man who gave us notable lyrics in films like Chameli, Rockstar, Aashiqui 2 and Raanjhanaa. But then again, it is futile to expect path-breaking lyrics from songs titled "Main Mushtanda" and "Kambal Ke Neeche". Those who had titled "Tooh" the most annoying song of recent times clearly have another thing coming their way!
The star rating below is purely an acknowledgement of the efforts of the supporting cast who helplessly tried to save the film. Great effort guys but you'll be disappointed to know that this needed far more than just a convincing supporting cast. Ghai's Kaanchi is the film you must go out of your way to avoid. If you're brave enough to venture into a cinema hall to watch this one then kindly accept our condolences.