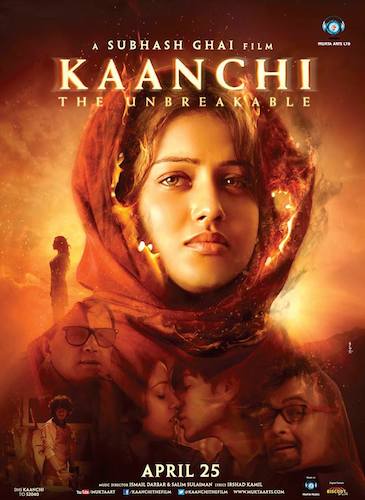 We have not had a new Subhash Ghai film since 2008's Yuvraaj, which starred Salman Khan and Katrina Kaif. The Showman is finally coming back to the big screen on April 25th with the musical drama Kaanchi – The Unbreakable. Starring Rishi Kapoor, Mithun Chakraborty, Kartik Aaryan, Chandan Roy Sanyal, Rishabh Sinha and introducing Mishti, the film tells the story of an innocent rural beauty and her fight against power. Not only is the film highly anticipated but fans also could not wait to hear what the direcotr had in store for the music of the film. Ismail Darbar (Hum Dil De Chuke Sanam, Devdas and Kisna) has composed most of the tracks, but Ghai joins in for one song, and the superb duo of Salim-Sulaiman add two tracks to the sound of the film. So what does Kaanchi bring to the Bollywood music sphere? Read on to find out!
Starting out very new age-y in feel and sound, Kaanchi Re Kaanchi, sung by Sukhwinder Singh, is an Ismail Darbar composition. Layers of lovely sounds transpose into an anthem with a very strong percussive beat and cool guitar line. There is a children's choir as back up singers, which you would think might take away, but actually adds to the overall sound. Of course, Sukhwinder Singh is brilliant, singing with passion and strength. This one was surprising just because it had such a different sound in the stanzas of the track. The underlying beat and Sukhwinder's vocals had me stamping my feet and into the groove. Maybe a few too many ideas by the end but I think it will fit into the world of Kaanchi.
Then we go the romantic way with Tu Sab Kuch Re. A lovely composition that brings a new flavor and layer to a classic Bollywood pyaar song. Adding to the loveliness and 'I must hear this again' are the vocals. Sonu Nigam is the perfect voice for a track like this, of course, and he sings with his smooth feeling-filled pitch. The true star of the song is Anweshaa, who performs with a crystal clear tone that just sings – if you will forgive the expression. She also sings with such feeling in every note. I wanted to listen to it again before the song was over. If I had to say there was anything that I wish Darbar changed, there were two things. One was the background music to Sonu's section, it needed more depth, seemed to light a sound to support his vocal. Another problem is the band joining in the end, but maybe in the film that will make sense and not jar you, but that is being picky. This song is one of my favorites on the album – give it a play or 11.
Director Subhash Ghai composed Main Mushtanda featuring Mika and Aishwarya Majmudar. With Mika as singer I guess I shouldn't have been surprised that this was a dance track, but I totally was with it being the track Ghai composed. It has a killer groove that is just enhanced by the singers. Ghai has layered a synth electronic sound with this deep musical vibe and I loved it. Mika is in his element and rocks it. What adds to the coolness is the addition of Aishwarya Majmudar's sexy vocals. Again a new sound and this one so works. Give it a spin especially if this is your musical groove.
Starting with a thrummin' bass that almost has a 70s soul flavor, Darbar is up again with Koshampa, which features Aman Trikha, Sanchita Bhattacharya, Anweshaa and Subhash Ghai. Sadly, it did not live up to the beginning. It changes to what I would call a 90s Bollytune and there is nothing wrong with that, I love those songs, but this 90s Bollytune is just a mess of sounds. A confused track that needed some, well a lot, of editing. The singers are great and fit each section but there are just to many different styles. I wanted to turn it off before it was over so I would say Skip!
Ankit Tiwari shines on Kaisa Hai Dard Mera by Darbar. Love the a cappella section in the beginning…mindblowing! If you have read my reviews before you know I love a simple acoustic guitar line and an outstanding singer and this has this in many brill sections. The song grows when new musical layers are added in. Very interesting and intriguing. With a bit of a Spanish feeling it also has an under layer of different influences including pop, orchestra, choral layers and then the Indian flavor. But then, and I hate saying that about this song, there is that very odd rock guitar riff with the orchestra that at first is very HUH???. However, later on in the song that section makes a bit more sense. The flow of the track feels as if it is pushing you towards something… perhaps to the final climax. I loved so much of this song. A highlight, but I do think it will play much better within the film. Will I listen to it again? Definitely and probably even more after I see the film.
I was not sure about Kambal Ke Neeche from the very first notes, but as it went on it got a bit better. It does have a unique sound but it is almost as if they are trying to reinvent an Indian flavored synth/dance beat with a 90s track mix and it does not work. It's like it is on speed and the song is not pleasant to the ear. Singers Neeti Mohan, Aishwarya Majmudar, Sanchita Bhattacharya Aman Trikha get lost in the too many sounds sound. I was glad when it was over. I will just stop there…I think you get the idea.
Salim-Sulaiman join in the music with Thumka sung by Sonu Nigam and Suzanne D'Mello. A classic dance track with requisite synth beats and effects, it is good but somehow it is missing something to make it hot. The flavor of the beat had nothing that made me want to dance around my office, but in a club I bet it would get people a jumping and trying their moves on the dance floor. It maybe more your flavor than mine so try it out.
Salim-Sulaiman also bring us an anthem with the rock hook titled Hindustani Kahan Hai. Of course with vocals by Sukhwinder Singh, Mohit Chauhan, and Raj Pandit it has to be brilliant! This one again surprised me; it is so different from the other tracks on the OST. Such a heavy jamming flavor with the wailing guitars, the pounding drums and then the incredible singers this one is full on ROCK killerness! One of my favorite Salim Sulaiman songs that is definitely going on my list of Hindi songs that ROCK! Must listen!
The sprightly Adiye Adiye sung by Sanchita Bhattacharya and Avril Quadros is another Darbar track. Very Indian in flavor, it is a sound we have heard before but re-imagined in a novel way. Darbar likes to add many layers, which works sometimes but can distract as in the case of the cackle and some of the straight vocal lines. Both singers sing with zest, which makes the song, but there is something off with this. I did not love nor did I hate it. This maybe one again that will work better seen in context but not one to put on repeat.
The tracks of Kaanchi are full of musical surprises that create a OST full of new sounds and songs. For me the highlights have to be Hindustani Kahan Hai, Kaisa Hai Dard Mera, Main Mushtanda, Kaanchi Re Kaanchi and Tu Sab Kuch Re. It certainly isn't what you might expect but it definitely is worth a play!