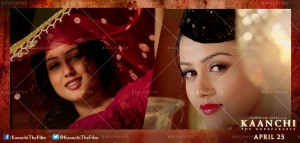 People today have an indifferent attitude towards actors when they see them on streets, going about their day-to-day activities. But this was surely not the case for Kaanchi's leading lady, the beautiful and talented debutante Mishti. She was recently mobbed by fans at the Hard Rock Cafe.
On spotting her, fans went crazy screaming her name and asking her for autographs. They were shouting, calling her Kaanchi, her character's name in the Subhash Ghai film. Security had to be called to keep the crowd in control.
Mishti's close friend, who was present at the venue with her said, "Mishti was overwhelmed at first, looking at everyone who had gathered to catch a glimpse of her, but regained her composure soon after. She reciprocated their love and got out to meet her fans."
She fulfilled fan requests with autographs, pictures and also some hugs and handshakes. Her happiness knew no bounds, seeing the enthusiasm and affection of her fans towards her and the movie Kaanchi. As she exited the venue, she asked her fans to keep spreading the love and watch her movie when it releases.
Kaanchi is slated to release on 25th April, 2014.