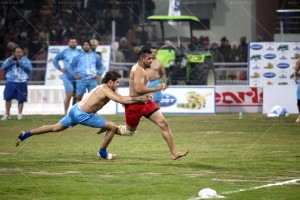 The popular classic Indian sport known as Kabaddi is about to get Cricket's Indian Premier League treatment. By that we mean a complete makeover and relaunch with heavy doses of glamour and glitz, teams brought to you by Bollywood stars and matches played across the world.
Here at Bollyspice we thought we'd take a little time to give our own special overview of the game, the key things you need to know and what to watch out for.
What is Kabaddi?
Kabaddi is a popular national sport played across the Indian sub-continent, with many other countries such as China, Thailand, Malaysia, South Korea, Iran and Nepal also participating. It is also played extensively in Western countries by diaspora communities.
Kabaddi is a combination of 'tag' and wrestling. A contact sport, which consists of 2 teams, each with 7 players and 3 reserve players. The game is played in 2 halves of 20 minutes each, within a circular boundary.
A team sends 1 of it's players into the other teams 'den' or side, where they have to tag 1 of the opposing team's 7 players and return to their side without getting wrestled down to the ground. However, whilst doing this the player must inhale his breath and not be able to exhale again until the player returns to their respective side. The player will be chanting 'kabaddi, kabaddi' during this process. If the player is taken down, then the opposing team scores a point. When the entire team is taken out, 2 additional points are scored.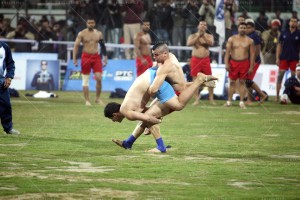 World Kabaddi League
The inaugural match of the World Kabaddi league kicks off on Saturday 9th August at the London O2 Arena. The opening ceremony will see a crowd raising performance by Bollywood star Akshay Kumar, who is also the owner of one of the participant teams.
Following the opening weekend in London (9th and 10th) the venue will be shifting to England's second city Birmingham, where Sonakshi Sinha's team will be playing (16th and 17th August).
The league will be played internationally moving from cities in England, to America, Canada, United Arab Emirates and on to India. Fixtures will be spread across 5 months and a multi-million pound prize awaits the league winners, as well as healthy annual salaries for all the 250 world class players.
The finals will be played out in December in India, but not before 86 gruelling matches, where each team will get to play the other at least twice.
Bollywood star owned teams
– Speedy Singhs is owned by Akshay Kumar
– Yo Yo Tigers is owned by Yo Yo Honey Singh
– United Singhs is owned by Sonakshi Sinha
– Punjab Thunder is owned by Rajat Bedi
If you're in the U.K and want to catch one of the matches in either London or Birmingham you can book your tickets here.
Stay posted for our exclusive interviews with team owners Sonakshi Sinha and Akshay Kumar.
GET READY TO JOIN OVER 1 MILLION EXISTING KABADDI FANS ACROSS THE WORLD…