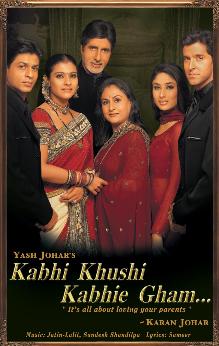 Yes, you read that right they are going to make a sequel to Kabhi Khushi Kahbie Gham! In 2001, Kabhi Khushi Kabhie Gham was a super hit, worldwide, with a business of Rs.200cr ($20 million). The film boasted the impressive cast of Amitabh Bachchan, Jaya Bachchan, Shah Rukh Khan, Kajol, Hrithik Roshan and Kareena Kapoor!
When he was first asked by a friend about a sequel to his runaway hit K3G, Karan took it lightly and laughed it off. He did not think it was a workable idea because he thought it was financially impractical and most importantly, he did not think it was a great idea for a film for today's market. However, when Senior AB gave thumbs up to the idea stating that "sequel was not only possible but also desirable and only Karan can do it.", Karan couldn't say a no!
Karan now says, "It's a workable idea. I am no longer averse to it. It would be a bold step if I make it." He further added, "it's very strange. But all the six main members of the cast are as dear to me now as they were 10 years ago when I made the film. I'm sure they're as charged about the sequel as I am."
BigB, on his blog, also posted about an idea for the story of the sequel, "It would be a story on the growth of the brothers and the problems that arise because of their independent understanding and working of the business empire of the father, a split within them and so on…"
Say Shava Shava, because Yashvardhan "Yash", Nandini, Rahul, Anjali, Krish, Rohan, Pooja Raichand are coming back to the silver screen!