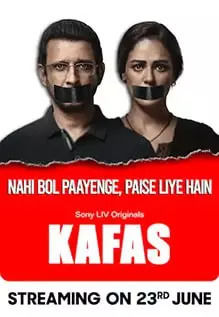 Kafas(SonyLIV; 6 Episodes)
Kafas which means trapped, is the kind of scarcely-seen series which grips you from the word go. It clasps its tentacles around your neck squeezing the breath out of you.Calling it entertaining would be hugely problematic: you can't be entertained by a 15-year child being traumatized by a Bollywood superstar.
The unspeakable truth about children being vulnerable outside their homes, even at a relatively safe workplace like a film set, haunts this deftly-told story which opens up its plot points like an onion.
Sadly, in this haunting plot set in the shallow sexually unmoored world of filmmaking, the set is not the only thing that is erect.
The paedophile/predator as a super-privileged superstar(a gutsy unapologetic performance by Vivan Bhatena) is shattering in its damaging repercussions. What makes the situation even worse is that the child's parents, played by a wonderful Mona Singh(her parental trauma reminded me of Rajshri Deshpande in Trial By Fire) and Sharman Joshi( a little too stoic) are not blameless in their fight for their vulnerable child.
All through the fight to get justice , the parents,especially the father, stands on thin ice. I liked their moral vulnerability . It creates a stronger case for the family to unite in times of an insurmountable crisis such as this one. It makes the battle between crime and justice so much more real and connectible.
Director Sahil Sangha treats the sensitive material with utmost care. My compliments to the entire team for making an ugly circumstance so palatable without tempering with the power- centre of the theme.
I also liked the power-play within the family unit triggered by the looming crisis. The way the crisis brings the 15-year old Sunny Vashisht(Maikhail Gandhi whose curly hair had got him the opportunity to play the young Sachin Tendulkar in the biopic) closer to his spunky sister(Tejasvi Singh) is a thematic strand sown seamlessly into the never-a-dull-moment storytelling.
At times I did find the storytelling getting ahead of itself. The beginning itself is over-dramatic and the conflict of interest between Raghav Vashisht(Sharman)'s two wives is too much Silsila in crisis that needs no distraction.Mona Vasu is quite interesting as the second wife. The actors make us forget the rough edges in the plot. Mikhail Gandhi as the traumatized Sunny shows a rare understanding of the sordid situation, as does his teenage sister who goes from push to shove, all for love.
Kafas doesn't beat around the bush. It takes on a very sensitive issue headlong, and spares no one.It also avoids being judgemental about common human failings . It is a remarkably well assembled piece of work, evidently adapted from a British TV series Dark Money. But who cares? Sahil Sangha had made the original his own.