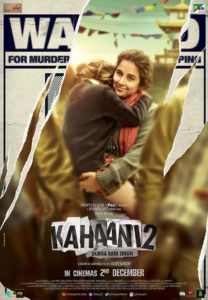 The team of Kahaani is back with Kahaani 2 – Durga Rani Singh !
Director Sujoy Ghosh reunites with powerhouse performer Vidya Balan, yet again for the second installment of the Kahaani franchise, also starring Arjun Rampal.
Essaying the role of the 36 year old, Durga Rani Singh, Vidya Balan is wanted for kidnapping and murder in this suspense thriller.
It is a proven fact that Vidya Balan is one of the finest actors we have today in the industry and watching her as Durga Rani Singh, the fierce woman out on a spree to save her daughter Mini leaves you spellbound! From Durga's accident to how Arjun Rampal as Sub Inspector Inderjeet Singh goes about investigating the case, the secrets start to unfold when he gets a hold of Durga Rani Singh's diary. The trailer will definitely keep you intrigued!
Who is Durga Rani Singh really? Is she being wrongly framed? Why is Mini not allowed to sleep at night?
Watch the trailer to know more!
Produced by Kushal Kantilal Gada, Dhaval Jayantilal Gada , Aksshay Jayantilal Gada and Sujoy Ghosh, Kahaani 2 – Durga Rani Singh , directed by Sujoy Ghosh and presented by Jayantilal Gada will be released by Eros international in the overseas markets on 2nd December 2016.