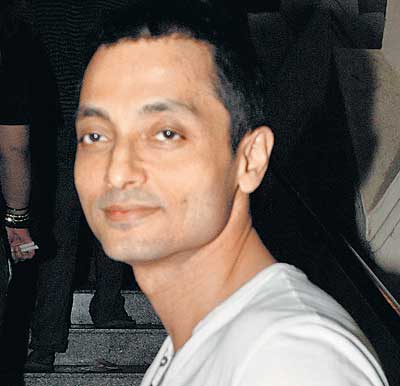 Sujoy Ghosh is a filmmaker with his own vision and with each new film he brings something unique to the audience. Whether it is the story of love, friendship and music of Jhankaar Beats, the sweet and endearing tale and characters of Home Delivery, again with fab music, or the fantasy fairy tale with the gorgeous look in Aladin, each film is something that we have not seen before in Indian cinema. For his newest film, Kahaani, he has once again taken a risk and gone in a completely different direction by taking us through the streets of Kolkata in a fast paced thriller. Starring Vidya Balan, the story follows Vidya Bagchi who arrives in Kolkata from London to find her missing husband. Seven months pregnant and alone in a festive city, she begins a relentless search for her husband. With nothing to rely on except fragments from her memories about him, all clues seem to reach a dead end. With everyone trying to convince Vidya that her husband does not exist, she slowly realises that nothing is what it seems. In a city soaked in lies, Vidya is determined to unravel the truth about her husband – for herself and her unborn child – even at the cost of her own life.
I got the chance to have a quick chat with director and had wonderful conversation about the film. Check out what he told me about the making of the Kahaani, the cool music, his honest admiration for Vidya as an actress and friend and his request to the audience.
Tell us about your journey to making Kahaani.
It has been long! Kahaani has been the toughest battle in my life. I think apart from getting my kids to study, this has been the toughest battle I've ever had. It all became a little tougher when Aladin didn't do as well as we were expecting it to do, but the thing is, you know, you can't give up faith, you can't give up hope. If somebody just says no, you can't give in, you know? If you have found the woman you want to be with, you are going to go with that woman no matter what the world says. So that's how we did it. That's how I did it and thankfully Vidya was with me on this journey. She stood by my side and eventually it happened.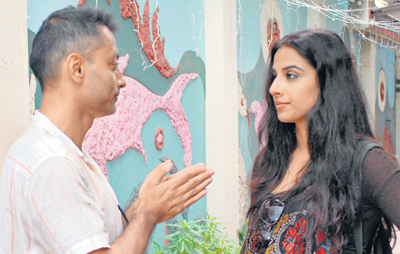 You always had her in mind for this film…
I really wanted to work with her. People keep asking me 'Why do you want to work with Vidya?' I really don't know. You know, I don't know because I met her once and she's such a nice human being. Sometimes you get attracted to a human being and I just wanted to work with her. That's it. There is no rocket science involved and I couldn't careless if she's the best actress in the world or the worst actress in the world. I just want to work with somebody whom I enjoy working with. I want to wake up every morning and say 'Yeah, man! I want to go to work.' So that's what matters to me. That's how I think.
Balan is the most adorable human being you'll ever come across. Great, great friend, great human being, great actress, great committed person. I just wanted to work with her and we wanted to find a story. I had this thought for a long time about this pregnant woman coming to Kolkata. A land where she's totally clueless, how would she survive? And from there it took shape. Then we had to find the cause – why would she come to Kolkata? So then we said her husband's missing. One step led to another and then the story was finally formed and it happened! It finally took shape. Once we had a script then the next round of battle began – trying to find somebody with money who would back us. And then we found that. Then we got the film made, which was another challenge because we were shooting real-time on real locations and against time. You know, it has been a battle but most enjoyable and I'll do it again it given a chance.
That must have been a challenge shooting in real time….
Huge! Huge, huge, huge because you know it's a different thing shooting in real-time with your mobile camera or a handy-cam, but when you are using film, it's a different ball game all together. You know, there are so many technicalities involved which you have to go with. It's impossible! It's a nightmare! But we did it. So when you see Vidya walking amongst crowds and in the Durga puja, it's actually real-time and those crowds are actual, real crowds. Like you see 5000 people in one shot right? Those are all real people.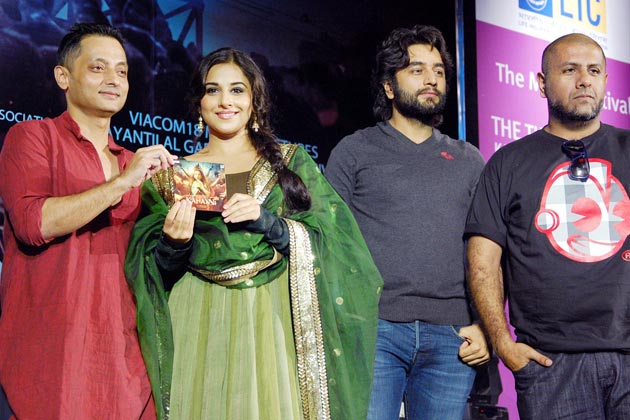 Wow! And I bet it just made the story of her being immersed in a place she doesn't know at all that much more real.
Yes! It was incredible.
So shooting that way, how do you keep the actors in the moment?
You know, this is where what I was saying before; you need to work with people who you are genuinely fond of or who are fond of you. Because you know when that happens, Stacey, everything falls into place. You don't have to work for it. It just falls into place, everybody is charged up about the film, everybody wants to make the film happen, everybody is willing to forgo and do whatever is needed for the film and that's how it happened you know. Everybody just chipped in and it was tough but it was a very enjoyable ride.
This film is so different than your other films, what made you want to go into this direction. Was it that this story came to you and that led you down this path?
Yes, absolutely! It's always the story first. I mean I have to be really, really excited about the story. It has to be a story where I am willing to lay my life on the line for this story. And once that's done, I think Stacey, what happens is each story comes with its own demands of how to be told. Like Aladin demanded a certain format, Home Delivery demanded a certain format, hence Kahaani also demanded a certain format. Kahaani demanded that I take you on the same journey as Vidya. So which meant a certain way of shooting the film, certain way of editing the film and we just followed that. You know once you have the story the rest more or less comes behind it. It looks different because it's a story, which demanded to be told in a certain way.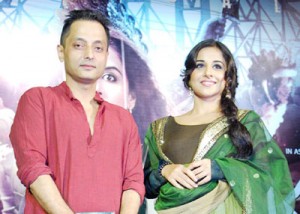 Tell us about creating the cool songs for the film. Since the film is so different how did you and Vishal-Shekar decide on what you wanted musically for the film?
See we were very clear from day one that the film can't have any songs. It's a very tight thriller. It's an hour and 55 minutes of a relentless search. So what we wanted to create was music, which would reflect the sentiments of the film, which would echo what the character is feeling, and echo what the city is all about. Vishal-Shekar are always involved from the scripting stage and so they knew. They knew the film, they knew the sentiments of the character, they knew the graphs of the character, the journey and everything. So they had to just make the songs. I told them the songs are not part of the narrative. The songs are not going to take the narrative forward. So basically when people hear the songs of Kahaani they should feel the film. They should see the film in front of them. I think they did it quite well.
What are audiences going to experience when they see Kahaani?
I think first and foremost they should enjoy the ride. It's very important. You should enjoy the story that's been told to you. And hopefully they will go out and get some more people in.
From what I have seen so far the combination of Vidya Balan and Sujoy Ghosh and the story of Kahaani is going to make a very enjoyable ride. You can go on the journey with her when Kahaani hits theaters on March 9th.