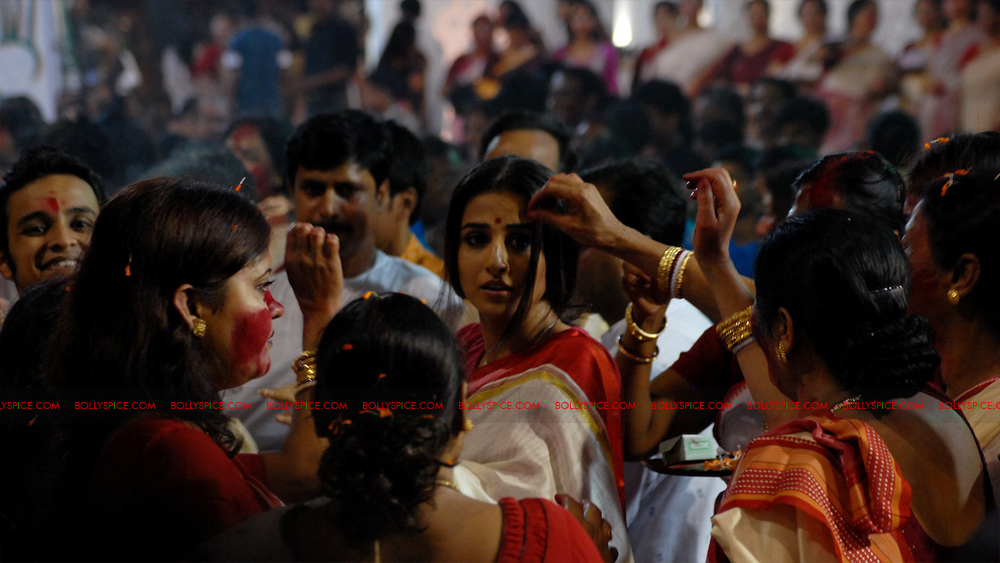 The first song of Vidya Balan's upcoming film, Kahaani, 'Ami Shotti bolchi…', is a tribute to the City of Joy, sung by Usha Uthup and Vishwesh Krishnamoorthy. "My film has two heroines, Vidya Balan and Kolkata, and this song was for the latter," says director Sujoy Ghosh. "The words, 'Ami shotti bolchi' (I'm speaking the truth) just popped out while chatting with Vishal (co-composer Vishal Dadlani) and became the starting point for a song that's been shot on the streets of Kolkata."
From the iconic Howrah Bridge and Victoria Memorial to Kumartuli, the idol makers' colony, and into a Durga Puja `pandal' during the vermilion ceremony before 'visarjan' (immersion of the idol) on Dusshera, 'Ami shotti bolchi…' takes one on a virtual tour of the city during the annual Durga Puja. Vidya goes searching for her missing husband in a Ambassador taxi, hitches a ride in a red police jeep, looks morosely out of a tram and even visits the Metro station.
"A large chunk of our budget went into ensuring that no one fell on the platform or on to the tracks during the shoots at three Metro stations – Kalighat, Jatin Das Park and Mahanayak Uttam Kumar," admits Sujoy. "Everywhere, the unit was followed by huge crowds of star-gazers and eventually Vidya became our crowd controller. When things got out of hand, we'd send her out to entreat her fans to let us shoot."
The song starts off with the actor trying to convince a cop that her name is Vidya and not Bidda and it ends with her shaking her head as a Visitor's Pass is made out to Bidda Bagchi. Filming also took place at Kalighat police station and the police headquarters at Lal Bazar. "Our actors were dressed in the same white uniform and since actual cops continued to do their work while we did ours, many believed that the Kolkata police were acting in my movie," chuckles the director. "They weren't, we'd only got permission to shoot in their domain."
After Saat Khoon Maaf's (2011) chartbusting 'Darling…' last year, Usha flags off the New Year with 'Ami shotti bolchi…' "I've always wanted Didi to sing for me but didn't approach her till Vishal came up with this song," says Sujoy. "It's trademark Kolkata and Didi is the voice of Kolkata."
Kahaani unfolds in cinemas across the UK on 9th March, releasing through B4U Pictures and presented by Viacom 18 Motion Pictures.
httpvh://youtu.be/JS6LV_kijUU