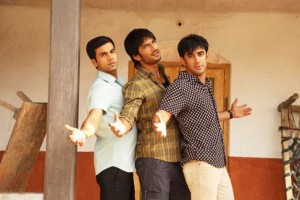 Kai Po Che a moving portrait of friendship, loss, forgiveness, directed by Abhisekh Kapoor and Produced by UTV will be screened at the very prestigious film festival in Norway, Bollywood Film Festival. Starting as a eight-day fest the festival offers brilliant cinema screenings and a fest to senses by Dance performances by talented groups and singing programmes cheering for the event.
Kai Po Che is a moving portrait of friendship, loss, forgiveness.
Bollywood Festival Norway brings the successful film to the Norway audiences. Much of the film's success lies in its spot-on casting and brilliant screenplay.
At a crisp two hours, Kai Po Che is enriched by its sweeping score and by the director's deft handling of the film's varied moods. Festival Director, Nasrullah Qureshi says, "Abhisekh Kapoor is a brilliant director and his considerable growth as a director is all because of his qualitative work. In Kai Po Che the way he tackles sensitive issues like the Gujarat riots with equanimity and empathy, and Anay Goswamy's terrific camerawork complements the director's vision intuitively."
The Festival starts from 6th September – 13th September 2013.
To find out more log on to www.bollywoodfest.com