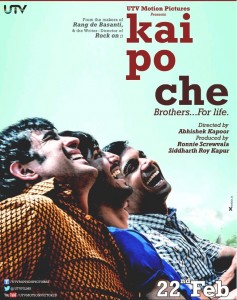 On February 22nd, Disney Utv released Kai Po Che, a film that was produced on the sheer force of creative instincts and trust in the subject. Teamed with an incredible marketing and distribution strategy it has rewritten the rules of making a non-star cast movie a resounding success. In North America, the opening weekend collections are the biggest numbers by far for a film with debutant lead actors and BoxOfficeGuru.com confirms that the film has crossed the half million mark with a total of $522,765 for Feb 22-24.
"The numbers are a testament to our faith in the story and the talent behind it. It's a pivotal point in our film industry, just goes to show that we can make highly commercial and quality cinema even with debutant leads, backed with a solid distribution and marketing plan" said Lokesh Dhar, Executive Director, Distribution and Syndication (North America).
After a world premiere on February 13th to a packed house at the 63rd Berlin Film Festival, the film released in 110 locations in North America. In the first weekend of its release, the film has already shattered box-office records for a film with an ensemble of new stars, be it in India or overseas. The film stars Sushant Singh Rajput, Amit Sadh, Raj Kumar and Amrita Puri.
We loved the film here at BollySpice and gave the film 4 stars saying, "The key to any book adaptation is the casting, in that how well can you visualise the characters of the book on screen. Kudos here to the team of Kai Po Che for selecting actors and actresses who were not only unknown, but also matched the characters from the book. Abhishek Kapoor has drawn some amazing performances from a lesser experienced cast and has delivered one of India's finest films, perhaps since Udaan. It is one not to miss!"
"Kai Po Che has been instrumental in me forming an extremely wonderful and rewarding creative association with Disney UTV. They thoroughly supported my vision right from the word go. A great meeting of minds, with a shared vision, work ethic and comfort zone; where artistic sensibilities complemented the box office, to create fresh dynamic talent and harness path-breaking cinematic content like Kai Po Che. Disney UTV, I have to admit is a production house that looks at breaking out with its content as well as its marketing and distribution. I couldn't have asked for more." said Abhishek Kapoor, director of Kai Po Che who has already signed a deal for another film with the studio.