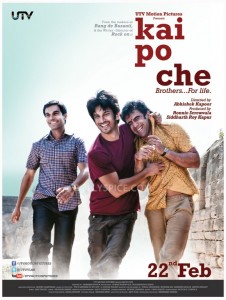 I'll admit to being quite heartbroken that this album featured only 3 songs from my perennial fave Amit Trivedi. However, the richness and authenticity he lends to these brilliant tracks for Kai Po Che are worth savouring. The expectations are high for Abhishek Kapoor's second film, which features the new wunderkind Sushant Singh Rajput, as well as Amit Sadh and Raj Kumar Yadav. The film is also an adaptation of Chetan Bhagat's bestseller "3 Mistakes of My Life." With these three songs, Amit Trivedi knows how to keep us hankering for more with the converging of eloquent lyrics and gorgeous music.
We start with the fabulous, Manja, which was heard in the first trailer and impresses with the full song. The song starts with the esraj and acoustic guitar, followed by the claps and the louder percussion. The promo just doesn't do it justice especially in the bridge and interludes where you can marvel at the jugalbandi between the many instruments. Amit takes the vocals, and is aptly spirited and emotive with the inspirational lyrics. Again, Swanand Kirkire's lyrics convey use the kites metaphor in such an eloquent way to convey the ambition and breaking free. The song is such a treat for the ears; keep this on repeat.
Trust Trivedi to reinvent the garbha-raas song with Shubhaarambh, a standout track that just makes you smile. Isolating the rhythms of the garbha song and making it staccato is certainly the most interesting aspects when looking at how Trivedi used the shehnaii and bagpipes as the big payoff. It's these interludes between the two instruments and the drums that just sounds so effortless and beautiful. Divvya Kumar adds that authenticity throughout the song and complements Shruti Pathak effortless and smooth vocals. The lyrics mix the original Gujurati lyrics with Hindi in the same wonderful convergence of the shehnaii and bagpipes.
Lastly, we have my favourite of the album Meethi Boliyan, which is a gem simply for Mili Nair's fresh and dreamy voice. While some of the initial arrangements of the guitar and zippy melody remind you of 'Khwabon Ke Parinday' by Shankar-Ehsaan-Loy, this one finds its footing soon enough. The lyrics are full of friendship with lovely little gems from "Aye zindagi hamein hosh ki na tu davaa de, Duaa de, dua de." When Amit Trivedi enters the track, the song suddenly mixes the airy soft-rock vibe with an edgier guitar riff in "uljha savera." The song is full of life and energy, which makes the chord progressions and tonal shifts much more of a treat.
Kai Po Che is teasingly short, but in spite of this, it's a great album because it shows an artist adapting to the constraints and setting of a film. Trivedi evokes Gujarat and its many rhythms and sounds, so we cannot wait to see how he does the background score as well!