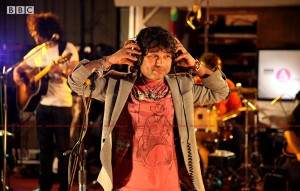 Kailash Kher and his band Kailasa have made history by being one of a select handful of Indian artists to have been invited to perform at the prestigious BBC Maida Vale Studios in London.
The exclusive recording took place on April 3rd, 2012, one day prior to the start of their first ever UK tour organised by Saregama Events UK. Hosted by BBC Asian Network radio, the session saw Kailash and his talented band perform a selection of seven songs from their noteworthy repertoire, including their biggest album hits, 'Teri Deewani', 'Allah Ke Bandey' and 'Saiyaan', plus tracks from their latest album, Rangeele.
Kailash's accomplishment sees him join the ranks of esteemed Indian artiste and master of percussion, Zakir Hussain, who first recorded at Maida Vale in the mid 1970s. Since then only a handful of British Asian artistes have been invited by the BBC to record, including vocalist Susheela Raman, jazz pianist Zoe Rahman and musician/composers Nitin Sawhney and Talvin Singh.
Similarly, Kailasa now join a much admired list of world renowned bands, such as The Rolling Stones, The Beatles and Coldplay, by being given the honour of recording at one of the UK's oldest, largest and most celebrated recording complexes.
Speaking after the exclusive recording, Kailash Kher said: "I am overwhelmed being in a place where top recording artistes like David Bowie, Jimi Hendrix and Led Zeppelin have performed. I can feel their energy and am blessed."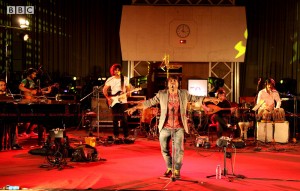 Built in 1909, Maida Vale Studios is now home of the BBC Symphony Orchestra and is used for both performances and recordings of classical music. The building houses a total of seven music and radio drama studios, of which Studio Number 3 (MV3), in which Kailash and his band recorded, is one of the largest. Bing Crosby made his last recording session in this studio in 1977 – 3 days before he died of a heart attack.
Kailash and Kailasa's performance and special interview with DJ/presenter Bobby Friction was filmed by the BBC for multi-platform use, including television, radio, online and the digital interactive BBC Red Button service.  The output will also form part of a national marketing campaign which will run from May 14th, 2012. Focusing on a range of eminent Asian film and music celebrities, under the tag line "Asian Stars for Asian Network", the new promotional campaign will also be seen and heard across the broadcaster's network of television and radio channels, plus cinemas and billboards around the UK.
"We were honoured to have Kailash Kher and Kailasa perform at the BBC's historic home of live music. BBC Radio Asian Network has followed Kailash from Meerut to Maida Vale and this unique session was a special moment for our listeners and for the Indian music industry. He deserves to reach a much wider audience." –  Mark Strippel, Head of Music & Events, BBC Asian Network.
Kailash and Kailasa's historic performance at BBC Maida Vale comes as a bonus to their UK Tour which has seen them perform at the Birmingham Symphony Hall and Philharmonic Hall in Liverpool since April 4th. After a concert in Holland (April 7th), they return to the UK to play live at hmv Hammersmith Apollo, London (April 8th) and De Montfort Hall, Leicester (April 9th) before flying to Pakistan, North America and the Trinidad as part of their first ever world tour.