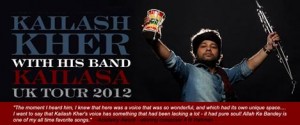 At the age of 38, Kailash Kher is one of India's youngest and most successful music artistes. With 800 live concerts, over sixty different film soundtracks and nearly two hundred jingles to his credit, plus stints as a judge on several popular television shows such as Indian Idol, it's no surprise that Kailash has amassed a huge fan following amongst India's 459m youth population.
Over the years Kailash and his band, Kailasa, have become the musical voice of Indian youth, regularly touring Indian universities and college campuses, attracting a loyal and increasingly influential 15-35 age fan base. When India's youth went out on streets in support of Anna Hazare's anti-corruption rallies last year, Kailash was one of the key public figures amongst them and lent his voice to the rousing anthem 'Ambar Tak Yehi Naad Goonjege'.
This Easter, Kailash and concert promoter, Saregama Events, are reaching out to young British born Asians, plus the estimated 43,000 Indian and more Pakistani, Bangladeshi and Sri Lankan students currently residing in the UK, by offering special student discounted tickets to Kailash's Birmingham and Liverpool concerts as part of his first ever UK Tour which runs from April 4th – 9th, 2012. Also just added is discounts for the London concert as well!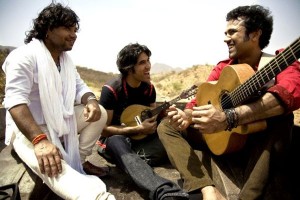 UK-based students can now buy Kailash concert tickets at a special reduced rate of:
£17.50 – Wednesday 4th April 2012 – Symphony Hall, Birmingham
Book by telephone 0121 780 3333 or online via www.thsh.co.uk and quote
Promo Code: Student 2012
£15.00 and £17.50 – Friday 6th April 2012 – Philharmonic Hall, Liverpool
Available in person only at the box office on presentation of student ID.
www.liverpoolphil.com
Plus Just added!
£20 – Sunday 8th April 2012 – hmv Hammersmith Apollo, London
Book by telephone 0843 221 0100/08448 444 748 or online via
http://www.ticketmaster.co.uk/event/3600478FE9A9B783?did=ukkkstud
Note: All students purchasing discounted tickets will need to present their student identification in person at the box office on collection.
Composer-singer Kailash, known as much for his band Kailasa's music as much for his film Sufi songs like 'Saiyaan' and 'Teri Deewani', says his works inspire young music lovers.
"In our eight years, we have done 800 concerts across the globe and more than 400 have been in colleges…Our music is an inspiration for the youth. Our music is not just entertainment but it also has a few lessons, like love and respect. It conveys our values and roots to the youth and that is why we are so popular among them." – Kailash Kher
KAILASH KHER AND KAILASA UK DATES
Wednesday 4th April 2012 – Symphony Hall, Birmingham www.thsh.co.uk
Friday 6th April 2012 – Philharmonic Hall, Liverpool www.liverpoolphil.com
Sunday 8th April 2012 – HMV Hammersmith Apollo, London http://www.hmvtickets.com/events/5118
Monday 9th April 2012 – De Montfort Hall, Leicester www.demontforthall.co.uk