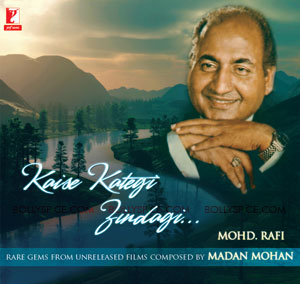 31st JULY 1980! 31 years ago, India's singing legend, our beloved Mohd. Rafi breathed his last.
5 years earlier on 14th July 1975, one of our legendary composers, Madan Mohan had already bid us farewell.
The music world, since then, has been bereft of their genius.
However, the historical magic they created together, through their unforgettable songs, has endured to this day.
Who can forget their immortal songs like Tujhe Kya Sunaoon Main Dilruba, Basti Basti Parbat Parbat, Kabhi Na Kabhi, Sawan Ke Mahine Mein, Mujhe Le Chalo, Main Nigahen Tere Chehre Se, Yehi Hai Tamanna, Rang aur Noor Ki Baraat, Kisi Ki Yaad Mein, Kar Chale Hum Fida, Main Yeh Sochkar, Tu Mere Saamne Hai, Aapke Pehloo Mein, Aakhri Geet Mohabbat Ka, Yun Rootho Na Haseena, Shama Mein Taaqat Kahaan, Ek Haseen Shaam Ko, Tumhari Zulf Ke SaayeMein, Meri Awaaz Suno, Teri Aankhon Ke Siwa, Chirag Dilka Jalaao, Yeh Duniya, Yeh Mehfil, Tumse Kahoon Ek Baat,Tere Darpe Aaya Hoon, Barbaad Mohabbat and Tum Jo Mil Gaye Ho, among various others.
The 90 solos and 56 duets which Rafi Saab sang for Madanji have become a part of music history. Even today, despite the fast changing tastes in music, their fans yearn to hear any tune composed by Madanji and sung by Rafi Saab.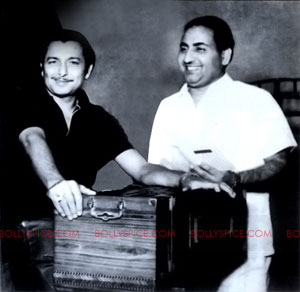 Ten songs recorded by them in their lifetime, remained unreleased, as the films stopped midway, and the songs remained unheard, till they were located on Madanji's master spools. Some of these were released on 1980 on a LP, while seven of these were released on the album Tere Bagair – Madan Mohan in 2009, which also featured songs by other singing greats. Three of these were never released except on Madanji's website www.madanmohan.in very recently.
For the first time, all these ten songs by Rafi Saab are now being compiled on a single CD, aptly titled Kaise Kategi Zindagi, a refrain of his countless fans and the mukhda of the pathos-laden opening track of this CD.
This CD is yet another testimony of the versatility of the composer and the unparalleled prowess of the singer in songs of any genre… emotional songs, romantic songs, philosophical songs, dance songs, frothy duets and even robust naughty songs… this CD has them all.
Being released to commemorate the death anniversaries of both the legends in July, Kaise Kategi Zindagi will be a worthwhile addition to the collection of admirers of Madan Mohan and Mohd. Rafi.
Kasie Kategi Zindagi is being released by Yash Raj music, the same label that earlier released Tere Bagair, and, of course, Veer Zaara, the memorable Yash Chopra directed film that had Madan Mohan's unused tunes recreated to form the much appreciated soundtrack.