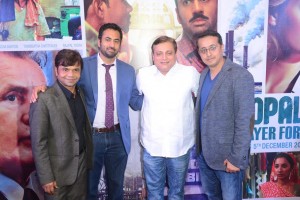 Hollywood met Bollywood at one of the biggest and best platforms of cinema to turn back time to an event that shook our country. Kal Penn, best known for 
Harold and Kumar
 and 
The Namesake
, and our very own Raajpal Yadav and Manoj Joshi came together at the 16th Mumbai Film Festival in Chandan Cinema, Juhu to talk about their new film 
Bhopal: A Prayer for Rain
, the social thriller woven around the biggest chemical disaster ever.
The actors launched an all new trailer of the film directed by Ravi Kumar along with special unseen footage and behind the scene action. This pre-release presentation on the film was also attended by Ravi Walia (Co-producer) of Rising Star Entertainment. Revolving around a poor man named Dilip (Yadav) who lands himself a job at the Union Carbide plant in Bhopal, the film digs deep into what went into the infamous gas leak. Dilip's long time friend is Motwani, a tabloid journalist played by Penn, who is on a mission to expose what he believes is a deadly time bomb.
"Bhopal: A Prayer for Rain is a film close to my heart. The story is as complex as the real-life circumstances surrounding the industrial disaster, and I hope that audiences here in India, and abroad respond to it the way our early screening audiences have," said Penn.
Bhopal: A Prayer for Rain, produced by Sahara Movie Studios and Rising Star Entertainment will release in India on 5th Dec, 2014.