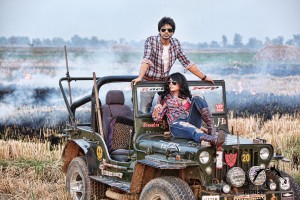 If Shahid Kapoor and Vishal Bhardwaj wouldn't have staked their claim over Kaminey, Kaminey 2 and more, Nikhil Dwivedi would have certainly wanted that title for his Tamanchey. Reason being that he is pretty much playing the kind of character that the expletive suggests. Moreover, with his partner-in-crime (well, literally) Richa Chadha not being far behind in making sure that her characterization is on the same lines as his, there was a common consensus amongst one and all that Kaminey – in any permutation or combination – was just the right fit for Tamanchey.
"If Kaminey wouldn't have already been used, we could have well have called our film one. Perhaps, even 'Do Kaminey' would have been just the right fit," winks Nikhil, who is arriving on the big screen after a hiatus.
He goes on to explain his fascination behind the term 'kaminey'.
"See, we have always seen love stories of good people on screen. However, Tamanchey is a love story of two bad people. They might not trust each other but then they will fight with the whole world for each other. Lekin maze ki baat yeh hai ki kisi ko samajh nahi aata – naa unhe, na unke aas paas waalon ko, na audience ko – ki are they true to each other, are they fooling the whole world or are they actually fooling each other," laughs Nikhil who promises that 'Tamanchey' is a fun ride all the way.
"In all fairness though, Tamanchey is a cool enough title for our film," says Nikhil, "What you would really like about the film is that there are elements of suspense and quirkiness in there which make the whole narrative special. Kya pata, yeh ladka -ladki kaminey lag rahe ho but then they are actually quite nice people at heart. Oh yes, they are doing every wrong thing in there; be it playing con games, carrying on some heists, ending up stealing, may be even kill! But then essentially they are pretty much in love and it is this very love story that keeps the entertainment quotient on for the film."
Now here is hoping that audience is entertained as well when 'Do Kaminey', oops, Tamanchey hits the screens on 10th October.