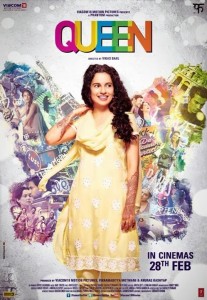 Director Vikas Bahl, who is all set to return as a director with his second stint, Queen, feels that he is actually starting from the scratch. "Chillar Party (his first film as a director) is forgotten. This is as good as a debut," states Vikas.
While everybody is stunned to see Kangana Ranaut portraying the lead protagonist, ask Vikas as to what made him choose Kangana for the de-glam role of 'Rani'? "Who said Kangana is de-glam? I wouldn't call her de-glam. It is a very pretty character. She is girl in a group of 10, whom we think gets unnoticed. Every girl has someone who finds her the most beautiful and eventually falls in love with her. This is the story of one such girl in a group of 10. And I think Kangana is pretty, she has her own sense of style. We might disagree with that. I don't think there is anyone in this world who feels they don't have a style. So de-glam is not the right term for it," reveals Bahl.
Talking about the story he said in an interview, ""It's a film about life not going as per plans. How especially in India we, probably at the age of ten, decide how we are going to live the next 60-70 years of our life. When you plan life that meticulously and it doesn't go accordingly, then what happens? This happens to be a girl's story but it could be anyone's story. It's a sad story but told in a funny way. This is a coming of age and discovering yourself kind of a film"
Explaining why he zeroed down his choice to Kangana, the director discloses, "We spent 15-20 days of discussing and then narrowed down on her. Kangana belongs to Himachal and she is familiar with those (pahadi) girls – their accent, dressing, body language etc. So it became easy for me. What Kangana has done is real and not caricaturist."
In an earlier interview he said, "I was a fan of Kangana's earlier work, but when we started working, she went way beyond what I had expected."
The movie is about Kangana going on her solo honeymoon to Paris, after being dumped at the altar by her fiancé. She finds new friends in a foreign land, lets her hair down and has the time of her life. This is the part where her character experiences a beautiful transformation.
Kangana Ranaut said, "I could visualize Queen having the best time of her life in the most beautiful places on Earth. I could not wait to get on my single honeymoon."
"Kangana's inputs played a huge role in shaping the character of Rani. Her excitement about shooting for the film, especially the second half, was natural, as she would finally get to transform and sport her infectious smile," said Bahl.
Presented by Viacom 18 Motion Pictures, Queen is a Phantom Production. The Kangana Ranaut-starrer is directed by Vikas Bahl, and produced by Viacom18 Motion Pictures, Vikramaditya Motwane & Anurag Kashyap. Queen, which also stars Rajkummar Rao and Lisa Haydon, is slated to illumine screens, come March 7, 2014.