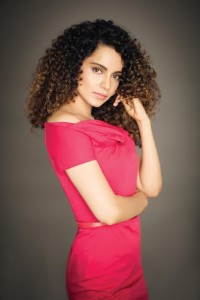 Quite recently Kangana Ranaut,who has long been a follower of Swami Vivekananda, lent her support to Ramakrishna Math and Mission.
Not only has Kangana extended financial support towards the renovation of the Mission's hospital that has been rendering free and subsidized medical services to poor patients, but also visited Ramakrishna Mission's rural welfare project in Sakwar, that caters to the under-privileged tribals of Thane district where she interacted with the children there.
Kangana who has always been vocal about things she believes in has been visiting the Mission and their welfare project whenever time permits.
The actress also looks to encourage people to not just extend financial support but also use their skills for service towards those who need it.
Says Kangana " This is just the beginning of my association with Vivekananda's Human Excellence Centre. He was a spiritual scientist who believed that for a truly progressive nation we need to build a generation of Indians who got muscles of iron and nerves of steel, from the infinite ocean of wisdom and knowledge that he left behind I highly recommend Karam Yoga (science of action) and Janan Yoga (science of origin)."
The president of Ramkrishnan Math and Mission, Swami Sarvolokaansaathi said "It is wonderful to see a celebrity like Kangana Ranaut support our institute.We highly appreciate her endeavour and would like to encourage more people to contribute towards the institute in any possible way."