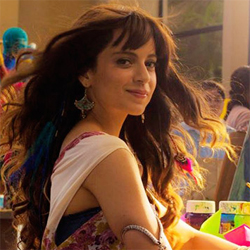 Kangana Ranaut has once again proved to be the reigning Queen of Bollywood! According to reports, Kangana has recently signed a new film for a whooping 11 Crores. This announcement makes her the highest paid actress in Bollywood.
Hollywood as well as Bollywood actresses have spoken about income disparity in the industry for a long time. Many leading actresses including Kangana have been vocal about the issue, but are now optimistic with the changes slowly taking place. Trade expert Amod Mehra says, "An artiste's fee is directly proportionate to the kinds of returns he/ she get at the Box Office. It's still a male-dominated industry. Except Tanu Weds Manu Returns, none of the other heroine-centric films did great business."
Kangana has carved a niche for herself by choosing strong character focused roles. A well-known producer known for delivering blockbusters added, "With Queen and Tanu Weds Manu Returns, Kangana single-handedly set the Box Office on fire. She deserves as much as her male counterparts and we are happy to give her, her due."
Kangana is currently promoting her upcoming movie Katti Batti pairing her opposite Imran Khan for the first time and she is also prepping for her upcoming role in Rangoon.