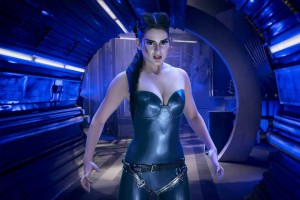 The official trailer of
Krrish 3
has undeniably created a great buzz on an international scale. With over five million views in as little as three days, we are certain it is a film we will have to watch out for! With so much frenzy about the film we have some further exciting news to share with you!
Kangana Ranaut, the actress who will be playing an antagonist role in Krrish 3 is believed to have been involved in singing a song for the film too! Whilst audiences have only had a chance to admire her acting skills through celluloid they will now have the opportunity to listen in on her vocals skills too. We were of course unaware of Kangna's singing abilities till date and are therefore excited to find out more about her singing venture!
The music director of the song Rajesh Roshan who spoke with a leading news reporter said, "Kangna is a born artist. There are praises for her from me. She has sung such a tough song in the film… to sing such a song, a full-fledged romantic song, it is a big thing." Rajesh Roshan is surely impressed with the actresses potential and will be unleashing this song on screen with the release of the film.
Although veteran actress Juhi Chawla had lent her voice for a playback song in Boothnaath (2008), not many other actresses over the last five years have had the opportunity to unleash their singing potential. It is as such great to hear about Kangana increasingly involved in Krrish 3. It's definitely a film to watch out for and we are eagerly awaiting to hear this exciting song.
Watch this space to find out more related news about Krrish 3!