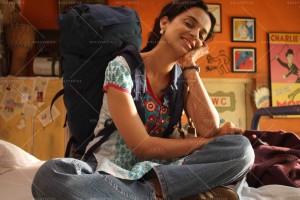 Bollywood beauty Kangana Ranaut speaks to Sunny Malik about her next release, Queen which hits theaters on March 7th. The film is a feel-good and female-centric flick directed by Vikas Bahl and produced by Viacom 18 Motion Pictures.
Queen tells the story of Rani, a girl left at the altar. Taking her life and destiny in her own hands, she decides, impromptu, to go for her meticulously pre-planned honeymoon… by herself. A girl who has never been out in Delhi unescorted by her younger brother now leaves for a foreign land to embark on a life journey filled with experience and adventure.
Check out some highlights of Kangana Ranaut on all things Queen
How was your experience attending the Burberry show at the recently concluded London Fashion Week?
It was really beautiful. London was great as it didn't rain that day. We were expecting it to rain and it didn't. So we were quite lucky with the weather (Laughs). It was my first experience at an international fashion week and show. Burberry and I go long back as they have been dressing me for red carpet appearances and events. I was thrilled to see their collection. I loved how they received me. It was just a lovely experience.
Your film Queen was postponed from February to March and is now clashing with two other films at the UK Box Office…
The makers weren't sure yet as we have a song called 'Hungama Ho Gaya' and they wanted it to become slightly more popular. They wanted to market the song more extensively which is why the release date was postponed by a week. The film is now releasing on 7th March. I think, it was a call taken by the makers, the marketing team and the distributors. They all wanted to promote the music further because it's the kind of soundtrack that grows on you after you listen to it a few times. We don't have clichéd Bollywood numbers inspired by the 70's which you can't hear ever again after liking them and listening to them a few times. Vikas Bahl, the director, told me that this music needs time to become popular. It's sad as I would have loved to have a solo release for Queen (laughs).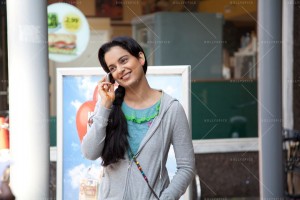 People have been praising your performance after watching just the trailer…
I am getting amazing reactions. Mr. Amitabh Bachchan has apparently tweeted about the trailer. I also met him at a party recently. Mr. Bachchan, Mr. Aamir Khan and Mr. Salman Khan all told me that they are eagerly waiting to watch the film. What else can one ask for? It's very important to me because I have felt accepted for the first time. I have never received such support for any of my films before.
You have never been a part of camps… Do you feel that the film fraternity has accepted you now?
I don't like to associate myself with any camps or such. I want to do my own thing. I like to have a little personal life whenever I can. I'd like to be my own person. I don't want to just cling onto others. I feel that everyone has their own goals. My goal is mine and I don't need to associate that with another person's goals. I like to keep it that way. I'd love to work with artists such as Mr. Amitabh Bachchan, Mr. Aamir Khan and Mr. Salman Khan, at the same time it is not the goal of my life or career. It's not something I am working towards. I am not sure about acceptance from the film fraternity as I don't work for anyone. I work for myself and my own happiness. It's alright if people don't accept me. I won't be unhappy about it.
Vikas Bahl just produced Hasee Toh Phasee and is known to make exceptional films. How was your experience being directed by him in Queen?
What I love about these contemporary filmmakers is their spontaneity. They allow artists to contribute to the film in many ways. Vikas allowed me to write dialogues of the film, not that I was planning to or worked towards it. It just happened very organically. He liked what I was coming up with and he let me write my own dialogues. At the same time, he understands the needs of an artist. I remember, I was working multiple shifts and was filming for Krrish 3 and Queen simultaneously. One day when I came from the sets of Krrish 3, Vikas asked me what was wrong with me as I wasn't behaving and walking like my character Rani. I can't just switch on and switch off. It takes me months to get into a character and I can't just work like a robot. He understood that and respected me as an artist. He didn't shoot with me that day. It's nice to work with such a director because you then put your all into his film because he respects you.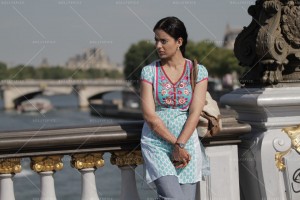 Could you relate to your character Rani?
I don't really relate to the character. She has major issues. She believes that by changing herself, she can please people around her. Her goal is to keep everyone happy. She is really naïve. I don't identify with these traits of her personality. But at the same time, I also come from a middle class background and I understand how and why she feels that way. I have also come from a small city to a big one. But I never had issues like low self-esteem. Everyone has these phases but it's not something I have experiences throughout my life like Rani has.
How was your experience shooting in places like Amsterdam and Paris?
We frequently shoot abroad but mainly for songs for which we dress up quite a lot. You look like an actress and people come and take pictures with you (laughs). However, for this film I had a very girl-next-door look and honestly, looked very ordinary. People would look at me and wonder why I am so special and why would someone make a movie with me (Laughs). That was a bit different. People would ask the crew "Is she the leading actress?" You know, people have this idea of a Bollywood actress wearing a chiffon saree and her hair flying (laughs) but that wasn't the case with me.
What kind of roles do you want to do?
I am very happy what I am being offered. I am happy with films like Queen and Revolver Rani. I am also doing the sequel to Tanu Weds Manu. I really can't tell what exactly I want to do in the future but I would love to do a sci-fi film after doing Krrish 3. I would love to do films like Tomb Raider or Kill Bill. I want to do films which are stylish, sci-fi and about women. It will be a good change and it would challenge me as a performer. I have been missing a stylish character after Fashion. I would love to save the world in a film (laughs).
Bollywood films with Khans or rom-coms do really well abroad and in the UK. What are your expectations from Queen?
I can't really tell. It's a shame that some people abroad watch my films only on DVD. Tanu Weds Manu, Fashion and Gangster are really popular abroad but everyone has seen it on DVD or TV. It is different for an audience abroad compared to our audience in India. Indian audiences are very Bollywood oriented. They watch our films every weekend. That is the only entertainment they get here. I don't know how it works in the UK. I hope that people like it in the UK because Queen has an international appeal.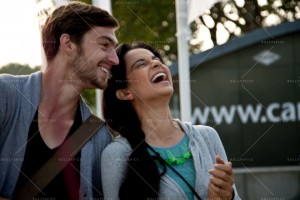 You are not on Twitter. Why is that?
I have a website which I try to update as much as possible but I am not on Facebook or Twitter. I am not a very social person (laughs).
Your interview with Anupama Chopra went viral on social media…
I never thought that the interview would go viral. That is just how I am. I had no clue that it had gone viral for the longest time. Initially, when messages started to pour in, I would get ten messages a day. I was giving a lot of interviews during the promotions of Krrish 3 and the messages just didn't stop at all. Then I said, 'Which interview was it?' and people told me that it was my interview with Anupama Chopra. Then I saw it and realised that it was really nice and they had also edited it quite nicely.
Queen releases in UK cinemas on 7th March!