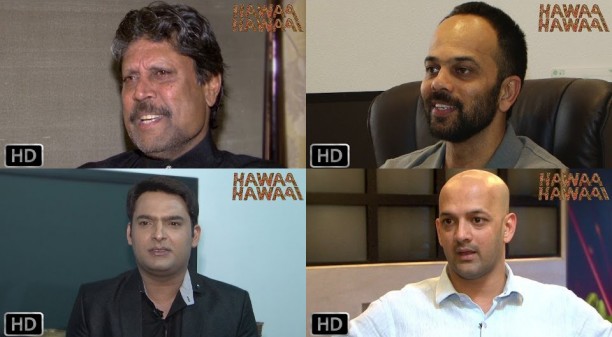 Keeping with the inspirational tone of the movie, the makers of the upcoming film Hawaa Hawaai have been reaching out to audiences through an unique innovative marketing tool – they have launched a series of videos called "The Dreamer videos". Four new videos in this series have been released, showcasing legendary Cricketer Kapil Dev, director Rohit Shetty, comedian Kapil Sharma and hockey player Viren Rasquinha, sharing how they went about achieving their dreams and urging viewers to go after their own.
The former Captain of World Cup winning Indian team, Kapil Dev says in his video, "One can't afford to be tired of working hard to realise their dreams, as dreams are beautiful." It shows the respected cricketer explaining that his dream was not to play for the country, but to be able to play the game as a game. He dreamt only of playing cricket, and not of achieving any fame.
Director Rohit Shetty speaks,"Everyone is born with a special quality. It's just that it takes time to figure it out. You know it takes time to recognise that quality in you, then there's no looking back…" To all the dreamers out there, Rohit Shetty's advice is not to be scared and hesitantin achieving one's dreams.
Comedian Kapil Sharma believes in a higher power that helps us achieve the goals we have worked very hard for. Speaking about his achievement in the industry, he comments that he did not follow herd mentality but saw the uniqueness in people and aspired to be just as different as them. He has, since, brought smiles on the faces of many and in turn received much appreciation for his performances.
Seventh in the series, the video featuring Hockey Player Viren Rasquinha, shows him talking about his aspirations and how he fulfilled them. Viren says, "Right from the time I was probably as tall as the hockey stick, my dream was to represent India, to wear the Indian colours, secondly, to play for India at the Olympics, and last but not the least, to win an Olympic medal for India."
The previous recently released videos in this series feature renowned Archer Deepika Kumari, Hockey player Jugraj Singh and Actor-Director Farhan Akhtar.
HawaaHawaai is the story of the remarkable journey of a poor boy 'Arjun', rich with dreams, as he tries to achieve his goal of becoming a champion Inline Skater. The movie stars Partho Gupte as Arjun, an in-line skater and Saqib Saleem as his coach.
Presented by Fox Star Studios and written, produced and directed by Amole Gupte, the film is slated to release on 9th May, 2014, and is touted to be the first film on in-line skating in the world.