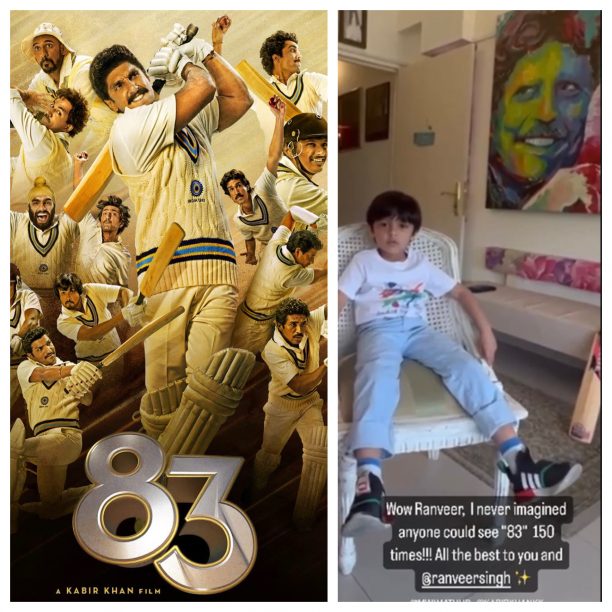 Superstar Ranveer Singh received a lot of praise and love for his portrayal of legendary cricketer Kapil Dev in the biographical sports film '83 upon its release. The film has been a massive hit at the box office, with collections surpassing the 100 crore mark. However, it seems that there is one young fan who has taken his love for the film and Ranveer Singh's performance to a whole new level.
Former Indian cricket team captain Kapil Dev recently posted a cute video on his Instagram account, featuring Mini Mathur and Kabir Khan's young son, where the boy can be heard saying that he has watched '83' a whopping 150 times. Kapil Dev captioned the video with the words, "WOW Ranveer, I never imagined anyone could see '83' 150 times!!! All the best to you and Ranveer Singh." He also tagged Kabir Khan and Mini Mathur, the director and producer of the film, respectively.
This adorable video caught the attention of many on social media, with fans of the film and Ranveer Singh flooding with messages of love and appreciation. The fact that a young child has watched the film so many times is a testament to the impact that '83' has had on audiences across the country.
'83' tells the story of India's historic win at the 1983 Cricket World Cup, with Ranveer Singh playing the role of Kapil Dev, who was the captain of the Indian team at the time. The film not only celebrates the triumph of the Indian cricket team but also pays homage to the spirit of sportsmanship and teamwork that has made cricket such an integral part of the Indian culture.
The video posted by Kapil Dev showcases the impact that '83' has had on audiences across the country, with even young children being swept up in the excitement and energy of the film. Ranveer Singh's performance has played a significant role in this, with the actor truly embodying the spirit of Kapil Dev and bringing the story of the Indian cricket team's historic win to life on the big screen.