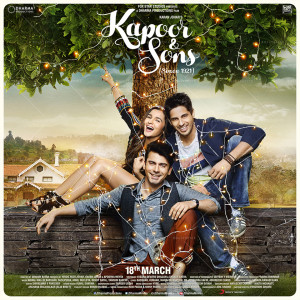 Kapoor & Sons (Since 1921) has all the right ingredients of a Dharma film: two rumoured lovebirds Aalia Bhatt and Siddharth Malhotra with great chemistry, a deliciously handsome Fawad Khan, and a quirky director in Shakun Batra. Part of that list includes a great album that'll continue to be played long after it's left cinemas, and Kapoor & Sons has some gems on its soundtrack. The music has been composed by Amaal Mallik, Badshah, Arko Pravo Mukherjee, Tanishk Bagchi, and Nucleya.
Kar Gayi Chull is an absolute banger, since it reworks Badshah and Fazilpuria's original "Chull" in the best way. Instead of going with pounding drop that was spaced out in the original, they add louder horns and trippy electro beats. They also have Sukriti and Neha Kakkar chiming for the female verses, but it's still a bit iffy to hear that Badshah kept the line, "Ladki nahi hai tu hai garam maamla." Keep this version on repeat.
Next is Bolna, which showcases the amazing vocals by Asees Kaur, who has a deep and lilting voice. It's a laid back tune that has lovely orchestration with the acoustic guitar, and flute solos throughout. Arijit Singh dominates the track, but Asees Kaur has a smooth voice that's a nice alternative to Shreya Ghosal breathy style.
Buddu Sa Mann is a great trancey track that has a 'Sooraj Dooba Hai' hangover with the cascading electro beats around the chorus, and the whistling adds a catchy hook to the composition. Armaan Mallik handles the vocals with flair and has a very silky voice that makes you think of KK.
Saathi Rey works well as a showcase for Arko's versatile vocals, which suits the stripped down feel of the song. I like the melodrama of the song from the opening strings and piano, but it soon segues into indie rock territory that feels like it'd suit the situational moments.
They saved the best for last in Let's Nacho, which is a nice reworking of Nucleya and Benny Dayal's banger Tamil Fever from The Project Resound for Sony last year. This time they've added Badshah to the mix, and it's actually nice to hear him sing a bit and come up with some fresh bars. The pulsating drums and insanely catchy drops are intact which is another example of how to rework a song without ruining the original.

We can't fault the composers too much for reworking songs, because it's in vogue right now and they're doing it right by keeping the soul intact. Kapoor & Sons is a funky and fresh album with songs that you're bound to be hooked on.