Karan Johar has premiered the trailer for his latest production, the all-star comedy Kapoor & Sons – Since 1921 starring Sidharth Malhotra, Alia Bhatt, Fawad Khan and Rishi Kapoor which releases worldwide in theaters next month on March 18.
Watch the exciting new theatrical trailer here:
Watch three-time Oscar winning makeup effects artist Greg Cannom transform Rishi Kapoor into a 90-year-old man in this new making-of video:
And check out the cool new poster!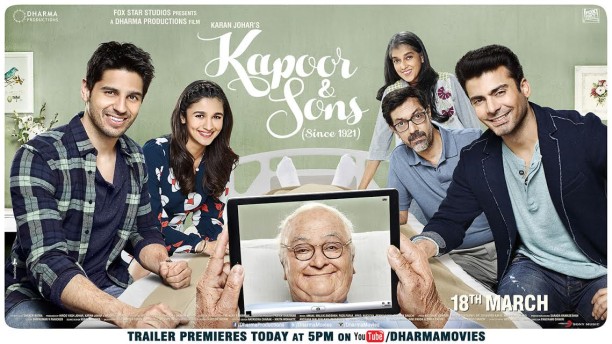 Kapoor & Sons – Since 1921
Release Date: March 18
Director: Shakun Batra
Cast: Sidharth Malhotra, Alia Bhatt, Fawad Khan and Rishi Kapoor
Producers: Karan Johar and Hiroo Yash Johar
Official Site: https://www.facebook.com/DharmaProductions/
SYNOPSIS:
Rahul and Arjun have returned back home to Coonoor to be with their grandfather in (what they think will be) his last few days, after he has a heart attack at the age of 90. Rahul, for his age, seems to have built a pretty good life for himself; a good looking man, doing very well professionally, living in a swanky apartment in London, and also planning to pursue architecture along with writing. On the other hand is his younger brother Arjun. Arjun is also an aspiring writer, living in New Jersey, clearly struggling to make ends meet. These two brothers aren't exactly the 'inseparable' brother duo we are used to seeing in our movies. The awkwardness and tension between them is apparent from the word go. Their arrival in India quickly unfolds their individual relations with their parents as well. Rahul is clearly the perfect one, loved by all, Arjun seems like the neglected one who according to the family is too immature/irresponsible to take decisions.
The brothers arrive in India to find that their little family isn't as perfect as they had imagined. Their parents no longer sleep in the same room and their father seems to have developed a relationship with a long time family friend, which is making their mom uncomfortable. Furthermore, the family is going through a severe financial crunch as well. The brothers have returned to the same old home, but with totally different dynamics. Their parents get into quarrels over their financial situation, ending marriage, and other bad decisions. The sons on the other hand have their own battles with the parents, and with each other. Arjun has an old friend in Coonoor who helps him get out of the steaming pot environment in his house. One night, the friend takes Arjun out for a party to a friend's place, which is where he meets Tia. Tia is an attractive, flamboyant, young girl who Arjun instantly strikes a chord with. Rahul meets Tia as well, regarding a business deal they are trying to strike, and even here, there is a certain equation right from the word go. We see the onset of another point of tension between the brothers – a love triangle.
As the story unfolds, we realize that all the characters have had their fair share of mistakes and bad decisions. The family members who seem perfect aren't necessarily so, and the ones who seem imperfect have had good reasons for their actions. Are the brothers able to bring back normalcy to their house? Are they able to resolve their own issues? What happens to the Tia-Arjun-Rahul trio? Is the grandfather able to get the perfect 'family photo' he's been striving for? The answer to all these questions and many more forms the crux of the story.