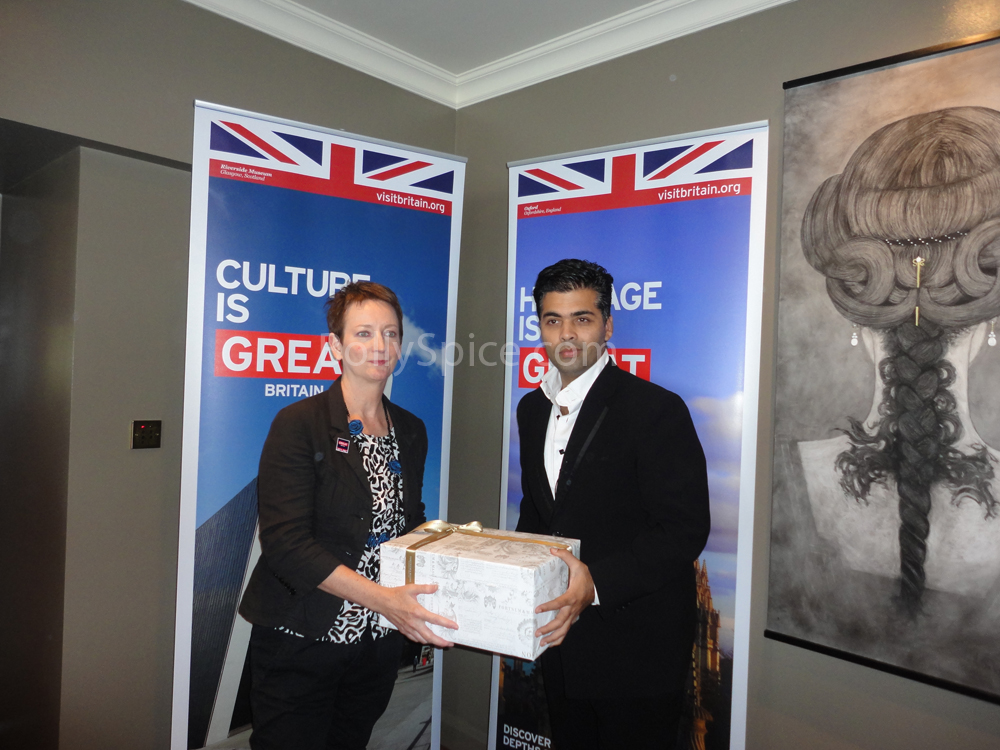 Karan Johar, one of the most renowned personalities of the India film industry has been in London this week as part of the world's biggest extravaganza – the 2012 Summer Olympic Games. "KJo" was a VIP guest of VisitBritain at the opening extravaganza on Friday 27 July, which had an estimated worldwide audience of over 1 billion viewers.
A goodwill tourism ambassador for VisitBritain, Karan said: "I am extremely overwhelmed with the opportunity VisitBritain provided me. It was the chance of a lifetime and was undoubtedly the most spectacular and breath-taking live show I have ever seen! I feel lucky to have been part of this prestigious ceremony."
"London has always been amongst my favourite cities in the world, be it for shooting my films, taking in the historic sites and architecture or simply relaxing".
While there was some 80,000 spectators at the Opening Ceremony itself, KJo was lucky enough to be one of the selected dignitaries present at the event, alongside tourism honchos like Jasminder Singh (founder and chairman of Radisson Edwardian hotels) and filmmaker Anthony Fabian. For him, it was a great feeling to witness such a breath-taking event from close quarters.
Even though Karan was in tight schedule due to on-going shooting of his upcoming film Student of the Year and judging a TV dance reality show, he did not give a second thought to put a halt to his shooting for a couple of days in order to make it to The Isles of Wonder.
"Although I am very well in sync with the city as I have shot extensively here for most of my films, I'm always finding new gems to explore when I'm here, so having the chance to witness London's East End when the greatest show on earth is in town was a special moment I'm always going to remember fondly," Karan said
With his love of shopping – be it a trip to Selfridges, Harrods or the designer shops of Savile Row – Karan was also captivated with several London 2012 "pop-up" shop which have been opened for the Games. These are a one stop shop for any type of the official merchandise and gifts associated with Olympics and attracting thousands of visitors a day who can get the chance to have their photo taken with the Olympic Torch.
Sandie Dawe, Chief Executive at VisitBritain added: "We were absolutely delighted to host Karan Johar for the biggest sporting and cultural festival in our history. The opening ceremony truly inspired us and we both agree it will set the tone for a fantastic Games across the whole of Britain.
"Karan is an ideal global ambassador for our country, particularly as film tourism is such a heavy influencer in travel. He also recently produced a short film for us where he invites the people of India to visit Britain so we simply couldn't have asked for a better seal of approval."