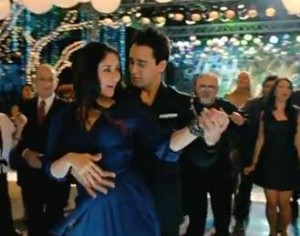 There are many films to look forward to in 2012 and one of the movies we are excited to see is Ek Main Aur Ekk Tu. The romantic comedy, directed by newcomer Shakun Batra, stars the new jodi of Kareena Kapoor and Imran Khan. Though some may think this is a bit of an odd pairing from what we have seen so far in the promos they have a fabulous chemistry.
Producer Karan Johar evidently agrees because recently he said the the USP of Ek Main Aur Ekk Tu is the jodi of Imran and Kareena, "What's unusual is what's different and what's different is what is working today. So, I think Imran and Kareena being unusual is the USP of the film."
In the film Imran plays Rahul Kapoor a straitlaced, serious architect living in Las Vegas. He meets Riana Braganza aka Kareena a bubbly, fun-loving quick-witted hairstylist and the total opposite of him. They meet, they drink way to much and well they get married. What happens that night and on the way to get the marriage annulled as they argue, they laugh and of course fall in love is the rest of the tale of Ek Main Aur Ekk Tu.
Karan Johar says, "It's a great slice-of-life love story and it's a perfect date film for everyone out there."
We will get to see this fun love story when Ek Main Aur Ekk Tu hits the big screen on February 10th!
If you haven't seen it yet check out the trailer! Cute Na?
httpvh://youtu.be/wI2hljDJmOQ