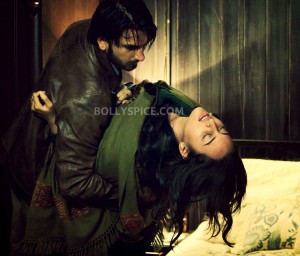 Even though Bollywood has made hundreds of love stories over the years, the most memorable ones are the ones in which the star pairs have a never–seen-before seen chemistry amongst themselves. Over the years, this kind of onscreen intensity has been visible in the films starring Rajesh Khanna – Mumtaz, Amitabh Bachchan – Rekha and Shahrukh Khan-Kajol. These star pairs have mesmerized the audiences with their performances especially when they are together in the most intimate scenes.
Lootera promises something similar, if one has to believe Karan Johar, one of the best-known creators of celluloid romance.
Says Johar, "Every single visual of Lootera exudes a silent sensuality, which is enhanced because of the chemistry that Ranveer and Sonakshi exude…it's one of the most exciting lead pairs, as they have completely opposite energies, but put together, they have passion written all over their demeanor. "Romantically Sexy" is what Lootera seems to be….and that is a rare feat to capture on celluloid."
Balaji and Phantom, two of Bollywood's biggest creative powerhouses, have united to create the new-age romantic duo, following in the footsteps of these iconic pairs. The two most promising debutants of 2010, Sonakshi Sinha and Ranveer Singh, have been cast together for the first time.
Lootera has been directed by Vikramaditya Motwane, whose widely acclaimed debut film Udaan was officially selected to compete in Un Certain Regard at the Cannes Film Festival in 2010.
Says Sonakshi, "Ranveer and I are opposites. As hyper as he is, I am calm. Even as actors, our styles of working are different. He likes to prepare whereas I don't switch on until the camera comes on. The beauty of Lootera lies in how Vikramaditya Motwane tuned two diametrically opposite actors so well with each other. I saw the rushes of the film and they're pure magic. I'm sure that the audience will love to see our fresh pairing."
Says Motwane, "The most important thing in a love story for me is the intensity and passion that my lead actors bring into playing their characters. Both Ranveer and Sonakshi have portrayed their love to perfection like seasoned actors even though Lootera is their first film together."
Produced by Balaji and Phantom, Lootera releases worldwide on July 5.