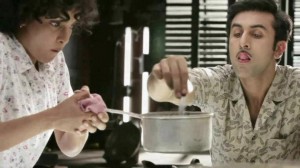 Anurag Basu's Barfi! (2012) has already garnered very strong positive reviews by critics. Here at Bollyspice.com, the film has been conferred with 3.5 stars! These reviews alone will most certainly tempt you to take the time to go out and see this much talked about romantic comedy starring Ranbir Kapoor, Priyanka Chopra and Ileana D'Cruz. To add to the already phenomenal response the film has received, filmmaker Karan Johar has made some eye-catching comments towards it. After having watched the film Johar tweeted the following: "I just saw Barfi! I have never felt more limited, inferior and talentless. Anurag Basu is the god of all filmmakers…his genius is Barfi!" Surely the film must be good for Johar to make such a remarkable comment where he himself underestimates and questions his own ability as a film director.
If that wasn't enough, Johar also made another tweet which praised Ranbir's brilliant portrayal as a deaf-mute boy: "Ranbir Kapoor has given the most outstanding performance…he deserves a running ovation! It will be an honour to work with him! There will definitely be no surprises then if Johar ever announces that he has cast Ranbir in his next directorial venture. As for Priyanka's performance as an autistic girl Johar tweeted the following: "Priyanka Chopra is just brilliant as Jhilmil. Superbly nuanced and pitch perfect. Her portrayal lingers long after the film…" Despite the lavish praises Johar has bestowed upon Ranbir and Priyanka, he has not forgotten to tweet about Ileana who makes her Hindi debut with Barfi! as well as the rest of the team: "Well done Ileana (D'Cruz)!!! Superb debut…and Kudos to all at UTV for this masterpiece that defines the barometer of modern cinema!"
Barfi! has now officially released in cinemas! You can decide for yourself whether or not you are in favour of the overwhelming reviews made towards this much talked about Bollywood film.