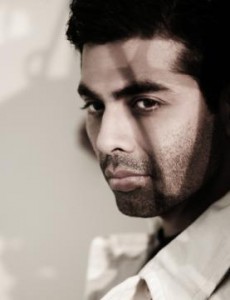 As we reported earlier, Karan Johar is putting on another hat, that of actor, in Anurag Kashyap's upcoming Bombay Velvet. The film, which stars Ranbir Kapoor and Anushka Sharma, sees the director/producer playing a negative role with very grey shades.
About Karan as an actor, Vikas Bahl of Phantom Films, said in an earlier interview, "I think there is a beautiful actor hidden in Karan. I simply love his ads. I'm sure he'll make the character bigger than the actor."
And CEO of Fox Star Studios, who is producing the film agrees. Vijay Singh said, "Karan is such a casting coup! He is not only one of the most talented and versatile minds in the industry, he also has the ability to surprise. I believe he will do great justice to his role."
The film is set to go to the floor this month and KJo recently had his first look test. He revealed more in a tweet!
So the #BombayVelvet journey has begun!! Did a look test today….Anurag has a superb team!!!

— Karan Johar (@kjohar25) July 6, 2013
Bombay Velvet, the first of a trilogy planned by Kashyap, is the story of how the city became a what it is today. Anurag told TOI, "Bombay Velvet is my first film in a trilogy about Bombay, before it became a Metropolis. It's a story that has always fascinated me and we have been developing it for about four years, and I am very excited that now its fully ready."
Talking about the film, Bahl said, "Bombay Velvet is intricately researched and beautifully fictionalized by Anurag as to how one of the greatest cities of the world was created amidst loads of action, romance, pain and huge drama. We are looking forward to working together with Fox Star to create a phenomenal cinematic experience of this story for the big screen…"
Getting back to KJo, the actor, who Kashyap says is "fantastic for the part", has been working hard preparing for his role and we can't wait to see KJo in this negative character.
Stay tuned for more about Bombay Velvet!