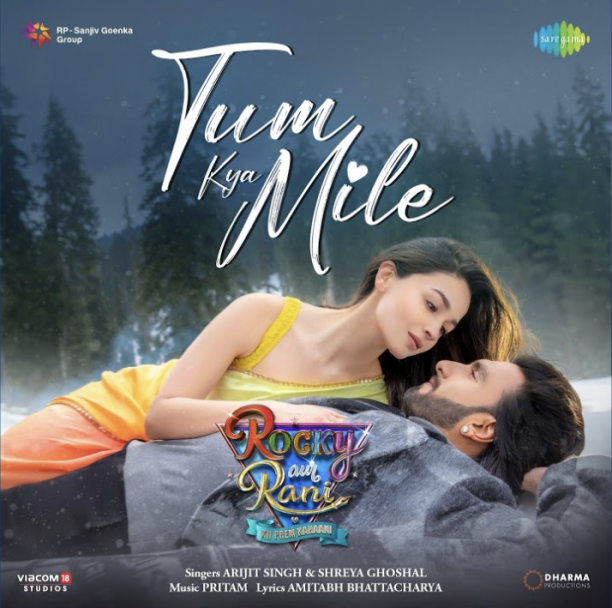 Get ready to fall in love with a gorgeous song done by Bolly-ish Shtyle!! We are talking about the beautiful, both in sound and look, 'Tum Kya Mile' from the highly anticipated film Rocky Aur Rani Kii Prem Kahani. Featuring the film stars Ranveer Singh and Alia Bhatt, this track is a callback to the classic Bollywood tune and is full of everything that makes music good and makes you feel. Composed by the great Pritam, with lyrics by Amitabh Bhattacharya and choreography by Vaibhavi Merchant, the song features the brilliant vocals of Shreya Ghosal and Arijit Singh.
Writing about the track before release, Karan Johar revealed on social media, "I remember at the very onset my instinct was that I wanted to film a love song that would unabashedly pay homage to my guru Yash Chopra…. The thinking evolved mind would say "you can't match it or even dare to emulate it, "but the fanboy and the ardent lover of snow, chiffons, the stunning locations of Kashmir and sheer romance got the better of me…
Pritam Dada and I yearned for a song for the ages from the ages, and it had it be unapologetic, or it wouldn't be true …
My deepest gratitude to Vaibhavi Merchant, who got the Memo better than I did and completely took charge, and being a Yash Chopra lover herself … she gave her heart to our song…
This is also the first shoot Alia did after the birth of her angel, and I remain in apology for freezing her in Manish Malhotra chiffons … in sympathy, I fell drastically ill through the shoot (a karmic punishment, perhaps 🙈). Ranveer was nervous as this was his first lip-sync mountain love song, but he was a real trooper….
So we are back to the valleys for an ishq wala lip sync chiffon saree song…
I hope you feel the love as much as we felt the cold…
This one's for you, Yash uncle …
Your fan forever,
Karan."
Get lost in the beauty and the love! As Ranveer wrote, "The soaring melody of love that will make your heart sing! 🥰"

Karan Johar expresses, "Love songs are always challenging, especially when one has a legacy to live up to. Love songs of Dharma Productions have always connected with audiences across the world. I remember we kept the recording of the love song of Rocky Aur Rani Kii Prem Kahaani at the end because Pritam Dada, Amitabh, and I were so nervous about how the song will be. We always met at our Bandra office because Dada considers it very lucky for him. I remember at one of our sessions, he made us hear just the melody of Tum Kya Mile and it immediately resonated with me. The simplicity of the tune connected with me. Amitabh wrote so beautifully – I love the use of the word Phagun. Arijit and Shreya bringing their almost genius to the melody was like a sone pe suhaga. Tum Kya Mile is really a piece of all our collective hearts and I do hope it finds the same beautiful connection with audiences as many of our love songs."
Arijit Singh shares, "It has been an absolute joy to lend my voice to Pritam Da's mesmerizing composition of 'Tum Kya Mile.' I am thrilled to be a part of such a beautiful and heartfelt melody. Working with Karan and Dharma Productions once again has been a pleasure. I hope that this rendition connects with the listeners and evokes the same emotions that we felt while bringing this song to life."
Shreya Ghoshal adds, "'Tum Kya Mile' is a song that will truly resonate on a deep level. The lyrics and music weave together to create a magical atmosphere of love. I hope that it touches the hearts of the audience, just as it touched mine. It's always humbling to collaborate with such talented artists."
Call us even more intrigued to see Rocky Aur Rani Ki Prem Kahani when it releases on July 28th!