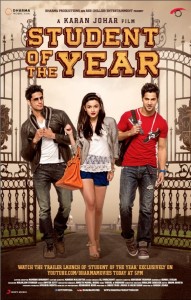 Directer Karan Johar will be bringing the leading actors of Student Of The Year; Alia Bhatt, Varun Dhawan and Sidharth Malhotra to London for a number of promotional activities.
Karan Johar and the three leading actors of the film will also visit Cineworld in Feltham, West London on Tuesday, 2nd October to interact with UK fans.
The stars and director will interact with fans at the cinema from 20:00. Lucky fans present at Cineworld, may win tickets to see the songs from Student Of The Year with the cast and director later at 21:00.
Speaking about the promotional visit, Johar said: "I will be at Cineworld Feltham on Tuesday, October 2 at 8 pm. So please come with your family and friends. I will be introducing new upcoming talent from our film Student of the Year, Aalia Bhatt, Sidharth Malhotra and Varun Dhawan. They are the stars of tomorrow, so please don't miss this opportunity, and give them love."
A number of press interactions are also planned for Sidharth, Varun, Alia and Karan Johar during this short promotional trip.
Eros International will release the film in the UK on 19th October 2012.
httpvh://youtu.be/SU3zPh1evXs