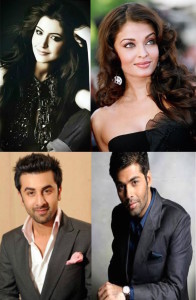 Here's some exciting scoop! Karan Johar's next directorial venture AE DIL HAI MUSHKIL to release DIWALI 2016.
Not only does this film have KJo behind the camera but it also has an amazing cast that includes Ranbir Kapoor, Anushka Sharma and Aishwarya Rai Bachchan.
Keeping up with his cool practice of letting the fans know first, the director tweeted the news saying, "My next directorial film #Aedilhaimushkil starring Ranbir,Anushka and Aishwariya will release Diwali 2016…@AeDilHaiMushkil"
We hear that this will be a story of love but of unrequited love and the problems of the three main character's relationships but we will have to wait and watch.
We can't wait to find out more about this exciting project!