Karan Johar is back this time with Ranbir Kapoor, Anushka Sharma and Aishwarya Rai Bachchan in a film titled Ae Dil Hai Mushkil and fans can't wait! The film began shooting today and we have a first look…well sort of!
Writing, "You can never meet with the demands of the heart….our journey begins today", the director posted this picture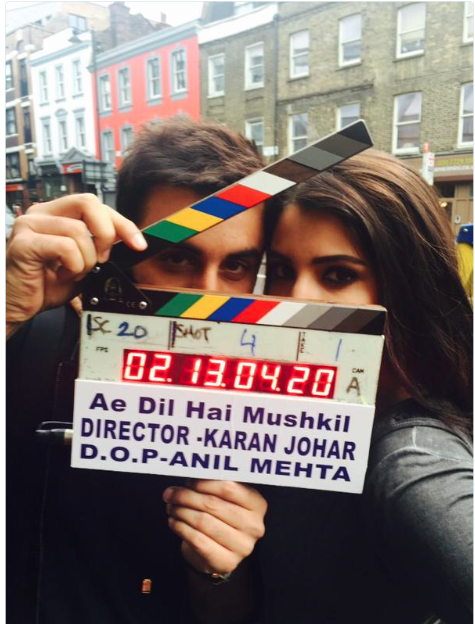 Describing the film, the director said in an earlier interview, "It's a film that dwells deeply on relationships, heartbreaks and how love completes you, defines you and yet leaves you wanting for more."
And before the film was even set to begin filming Ranbir told TOI, "Karan narrated the story to me in his house, it was beautiful and I was doing it. Karan has a stellar cast. I am so excited to work with Aishwarya Rai Bachchan for the first time and again with Anushka."
Earlier, talking about the project Aishwarya said, "It's a very beautiful love story that Karan will tell in a real way. It's a lovely team to be working with – Ranbir (Kapoor) and Anushka Sharma."
About starting the new project, Anushka tweeted
Sooo today we start filming #AeDilHaiMushkil in london.Butterflies attacking.Excitement rolling.Send me your love & wish me luck guys!! ???

— Anushka Sharma (@AnushkaSharma) September 9, 2015
We will have to wait until Diwali 2016 to see Ae Dil Hai Mushkil but you can bet we will be bringing you all the scoop so watch this space!