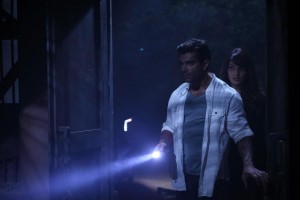 Television heartthrob Karan Singh Grover is all set to mark his Bollywood debut with upcoming horror film Alone and the actor claims that the scenes in the movie are very scary.
During a candid chit chat, when KSG was asked if he ever got spooked out after doing a particular scene, he said, "The scenes in this film are very very scary. For it to happen to anybody, even if we are just acting, we still have to feel it and once you feel something like that, you can't really disconnect from it suddenly. It stays with you and there are times in the future or during the shoot you are constantly reminded of those things because it doesn't leave you. So there are a lot of horrific memories in my mind right now because we had to imagine so much."
Directed by Bhushan Patel, Alone stars Bipasha Basu as the female lead and she'll play conjoined twins in the movie. Produced by Kumar Mangat, Abhishek Pathak, Pradeep Agarwal and Prashant Sharma, Alone is slated to release on January 16.