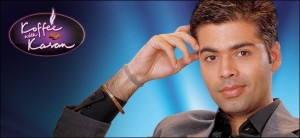 We all love a bit of gossip from Bollywood and Karan Johar is no different except for the fact that he enjoys the kiss and tell over a cup of coffee and a chat on the couch with the best of the best in Btown. Not to be greedy and keep all the inside scoop to himself, the filmmaker promised fans that his popular chat show Koffee With Karan would be back on the small screen by June 2012. Plans however seemed to have changed as the news comes out that viewers will have to wait until 2013 for season 4 as the show goes on the back burner.
To confirm the news, a source from the broadcaster of the show said "There is no movement in the pre-production department of the show as yet. We have not received any communication from our marketing team either."
Industry critics have in the past written down such delays to Karan having run out of celebrities to appear on the show. While it is true that some guest have made multiple appearances on the show, close friends are quick to dismiss talk by saying, "It's not true. Every year, there are people who say that Karan has no celebrity left on his list. And he comes up with a new one. But yes, the show is not happening anytime soon. Karan is extremely busy with his other television show and his next directorial venture Student Of The Year."
To put any rumors to rest Karan was contacted by a leading newspaper and said, "I am definitely doing Koffee With Karan. We will be on air in summer 2013."
While this delay may be a disappointment to those eagerly waiting fans, it is safe to say that plenty new talent has come into the industry this year for Karan to interview and when he does, we can be certain the chat will be as hot as ever.